1954 Aston Martin DB 2/4 Mark I
Aston Martin DB 2/4 For Sale
Origins
Launched in October 1953, the Aston Martin DB 2/4 marked a step change for Aston Martin as they began to tap into the untouched market of 'sports enthusiasts with family'. Early 1954 DB 2/4 were capable of a reported top speed of 190 km/h, with 0 – 100 in 11 seconds which at the time held the title of 'fastest car built in Britain'. Known not only for its impeccable handling and a level of comfort, not commonly found in any other sports car at the time, the DB 2/4 had remarkable rally credentials, entering the Monte Carlo Rally in 1955 and taking the team to victory.
Modifications weren't restricted to performance, the additional space at the rear coupled with a reduced fuel tank freed up enough space for an additional two passenger seating. With folding back seats that more than doubled the luggage area, the Aston Martin DB 2/4 was one of the early examples of what we now call the 'hatchback'.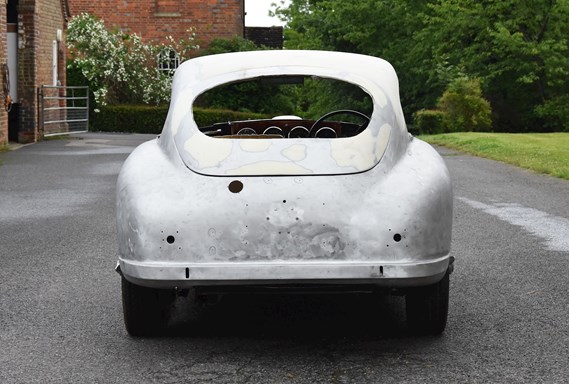 Aston Martin DB 2/4 | History
This Aston Martin DB 2/4 for sale by DM Historics provides the opportunity for a classic car enthusiast to restore an iconic Aston DB 2/4 to their bespoke specification. This iconic Aston Martin DB 2/4 Mark I, has lived a long and well-kept life since first being delivered new to Paris, France. The first owner is believed to have been a rich Parisian and avid collector of classic Ferrari's and Maserati's. After only a few years of ownership, the car was sold on and by 1958 the DB 2/4 had seen a further two owners before finding its long term custodian in the south of France.
In 2007 the Aston Martin DB 2/4 had been off the road for some 35 years, it was at this time that the car underwent extensive restoration using original parts from an official appointed manufacturer of genuine classic Aston Martin parts in Dorest, UK. The Aston Martin DB 2/4 was finished in an original 1954 colour combination Orient Blue over Beige interior and returned to the road in 2013.
More recent years saw the Aston Martin DB 2/4 returned to its country of manufacture, accompanied with an original and extensive history file of documentation such as:
- Copy of the original guarantee form
- Bill of sale
- Numerous invoices (from UK Aston Martin specialist during restoration)
- Condition reports (2012-2015)
- List of all works and services carried out (including odometer readings)
- Current French Carte Grise and Contrôle Technique (valid until 11/2019)
Being classic car perfectionists, DM Historics decided to create a unique opportunity to offer a stunning Aston Martin DB 2/4 example such as this as a blank canvas. Having already resolved all of the metalwork issues, the DB 2/4 now sits in bare metal, waiting for a new owner to seize the chance to make their mark on this 1954 sports classic.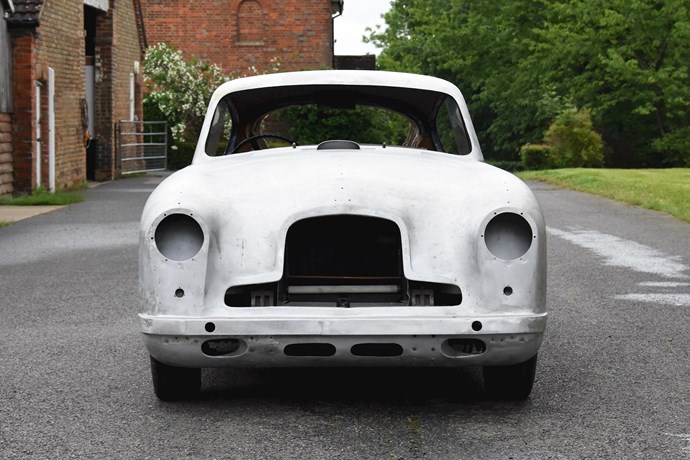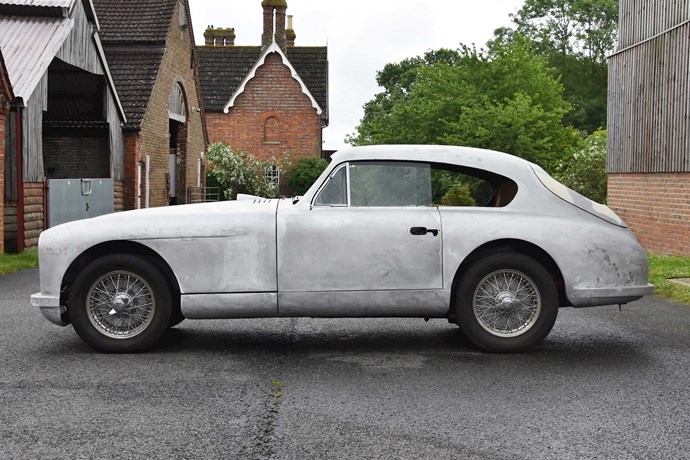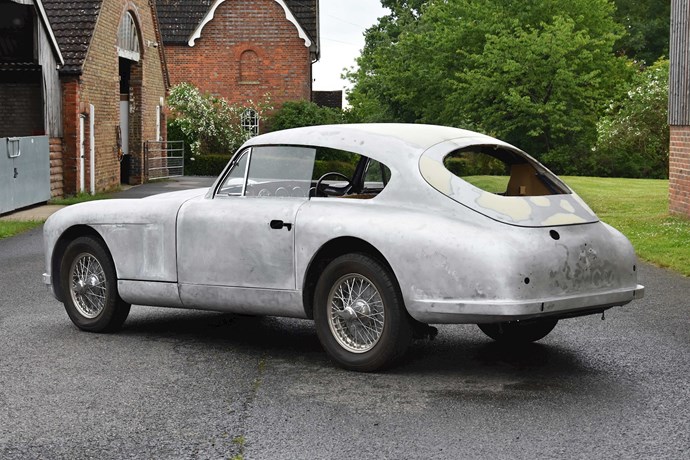 Aston Martin DB 2/4 | Bodywork & Trim
Once finished in factory correct Orient Blue and Beige leather interior with a walnut dash, the Aston Martin has since received an exterior strip down, been taken back to bare metal and treated to a number of metalwork corrections such as bonnet realignment and restoring door gaps, setting the Aston Martin DB 2/4 up for another lifetime of happy and reliable motoring.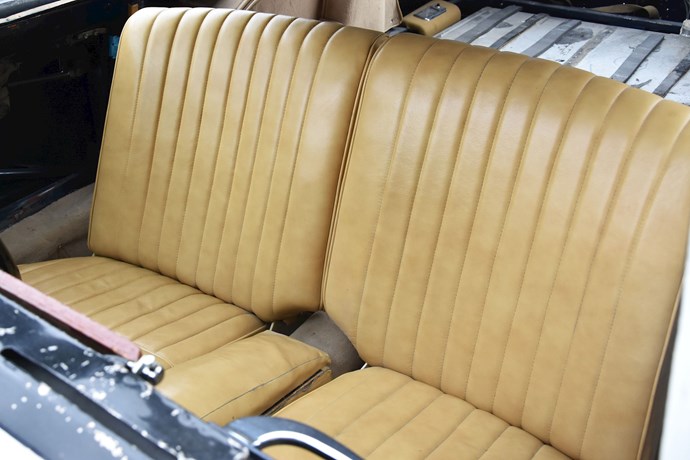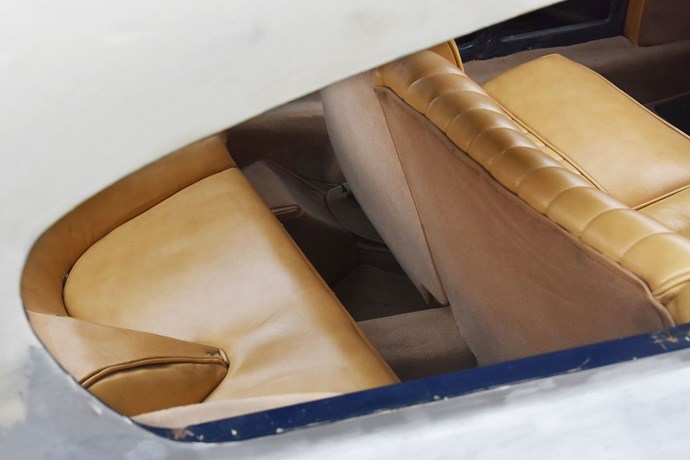 Aston Martin DB 2/4 | Mechanicals
As a result of its restoration between 2007-2013, the Aston Martin offers an impressive amount of power through its original 3-liter saloon engine and precise gear changes through a period-correct 4-speed gearbox.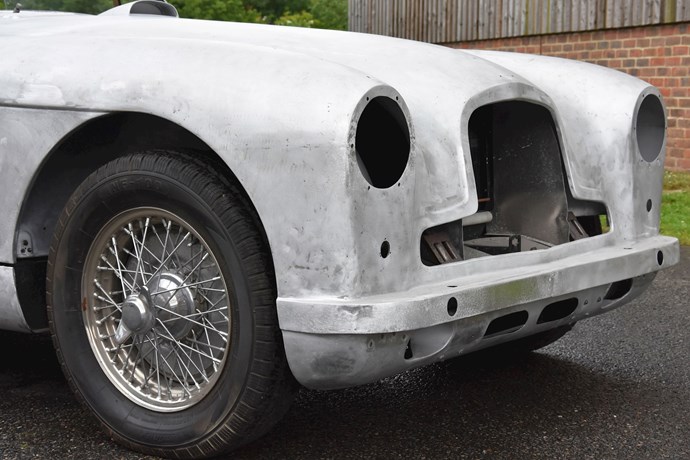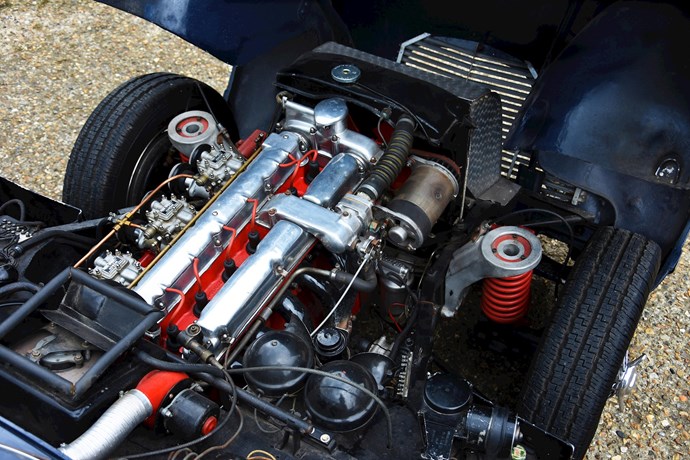 If you are interested in taking up this rare opportunity to restore an Aston Martin DB 2/4 please inquire by phone or email. We are more than happy to welcome any serious buyers to our premises to view the car in its current state and to view our facilities.