1962 Morgan +4 Super Sports Lowline
Raced across the Globe

Full FIA rebuilt 2018

2018 Le Man Classic Entrant

2019 Monza Entrant
MORE ABOUT THIS CLASSIC...
At the 1950 Earl's Court Motor Show the Morgan Motor Company, a small British sports car manufacturer at the time, introduced the 2088cc Plus 4 to the industry. The Morgan racing car, a highly capable machine that quickly became the platform for innovative performance upgrades within the company.
In 1962, the shift from road to a race-winning formula by the plucky Brits produced the "Morgan Plus 4 Super Sports", a superior example in every way to its predecessor due to its super lightweight body and a race-ready 2.2L triumph engine with dual Weber carburettors, a winning development that helped it win its class at the 1962 Le Mans 24 hours. This ground-breaking success encouraged Peter Morgan to introduce many permanent additions to the Plus 4 which has continued to evolve to this day.
History | 1962 Morgan Plus Four Super Sport Low Line
We have a 1962 Morgan Plus 4 Supersports for sale at DM Historics. Initially finished as a left-hand drive Plus Four 2-seater chassis, this Morgan race car was later delivered to Fergus Motors Inc, New York, USA, a car import specialist in June 1963
This FIA Morgan Supersport racing veteran can trace its racing heritage back to the 1970's, having been prepared as a race Super Sports Low Line in the late 70's, the racer first competed in Holland by Dutch club racer, Mr Lucassen, starting its promising track career with some success in Dutch historic championships.
After some continuing European success, the Morgan Plus 4 was purchased by another Dutch resident and well-known historic racer, Peter Ecury, in the 1980's who proceeded to step up the racer considerably and campaigned the car across the globe in Europe, UK, even Russia and North Africa.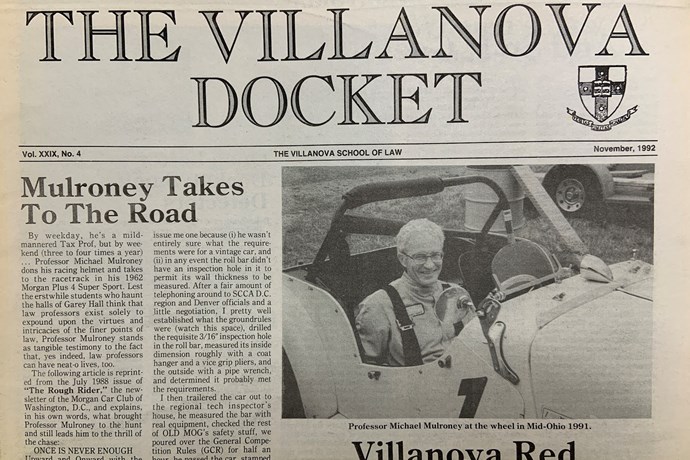 Milestone | Peter Ecury
Three-time winning European Vintage Champion, Peter Ecury got the motorsport bug at just 13 having experienced his first Dutch Grand Prix, later to return home and start tracking his mother's Mini Cooper. As his skills grew so did his ambition, seeing his adult years take Peter to endurance racing such as 24-hour at Spa-Francorchamps and Le Mans, with his most noticeable achievement being his win of the 1983 FIA Benelux Historic GT Championship, a repeated victory the following year, all on route to winning the 1984 FIA European Overall Historic GT Championship – a no easy feat.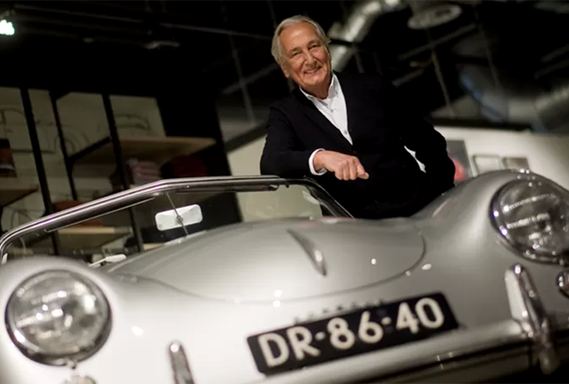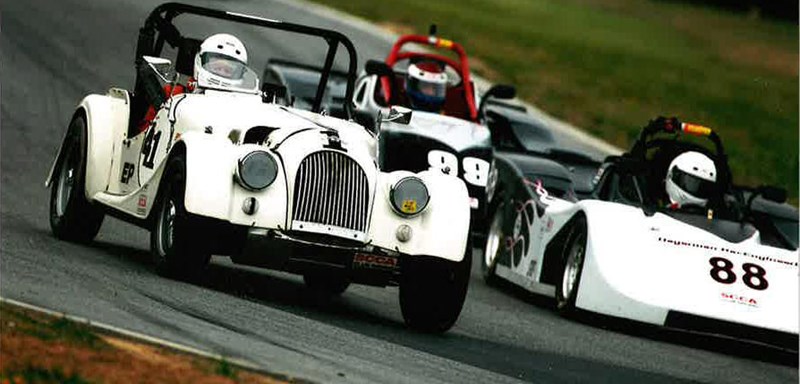 History | Continued
After 5 years of countless success across the continent and beyond, sharing a race with the Morgans previous custodian for an endurance race weekend mid-1980's and well as taking wins at the Benelux historic championship and European Historic GT Championship in 1984, the Morgan was sold across the pond to a talented American writer, Professor Mulroney.
Mulroney proceeded to campaign the Morgan throughout club events from Sports Car Club of America and Sportcar Vintage Racing Association, between 1985-2012. Being an avid and successful writer, the Professor documented all his experience behind the wheel of the Super Sport model in published articles and essays, which also featured the story of his race team "Phlexed Spincter". During the professor's ownership, the Morgan Plus Four Supersports was treated to a substantial restoration by a Pennsylvanian Classic Specialist, which included replacing the frame, rebuilding the engine, bodywork and finally a full repaint.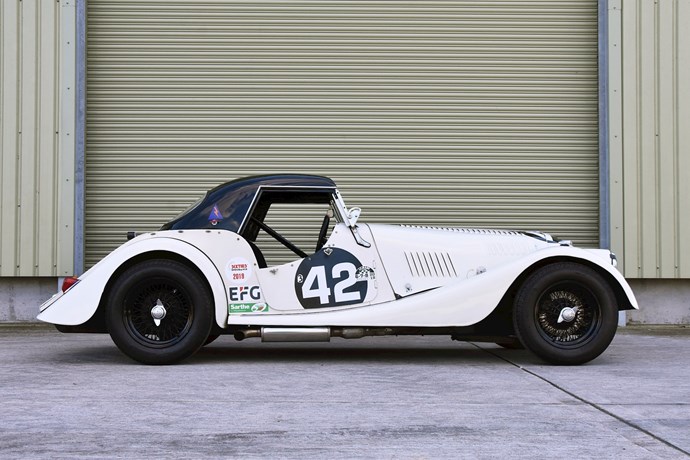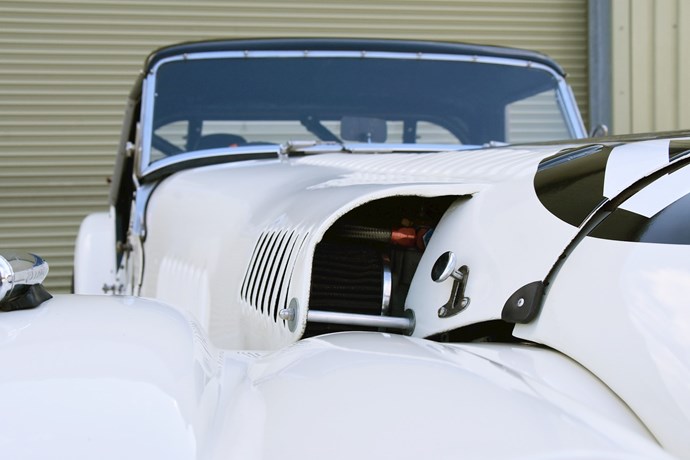 Being a true historic racing enthusiast, Mulroney pulled every inch of fun and enjoyment out the racer, which is clearly highlighted from his writing, of which published copies can be found throughout the supplied history portfolios. The American professor called it a day in 2012, selling the Plus Four on to a Belgium based race specialist.
Upon arrival it was decided to treat this early 60's racer to another full nut and bolt restoration, fully stripping the example back to its bare bones and rebuilding the Morgan to period-correct FIA specification, all in preparation for the 2018 Le Man Classic, it was at this time the racer always received its valid FIA paperwork. Finishing its restoration, the Morgan was fitted with several FIA approved featured which include:
All new steel engine
New headers
New gearbox
Bespoke and super strong fitted roll cage
Lightweight Tillet seat
Lawrence tune hardtop
Quick-release steering wheel
FIA approved fuel tank
Following its recent extensive rebuild, this competitive example successfully entered the Le Man Classic 2018 and Monza in 2019 and today retains its FIA papers - FIA Period class: Historic B - Type class: GTS. An exceptional example eligible for entry of Le Mans Classic and all other pre '65 FIA events such as Peter Auto Sixties Endurance, Masters and 6 hours of Spa to name a few.
The Morgan comes with several full binders illustrating its history, track results, pictures, invoices, FIA papers, press articles, past trophies and awards.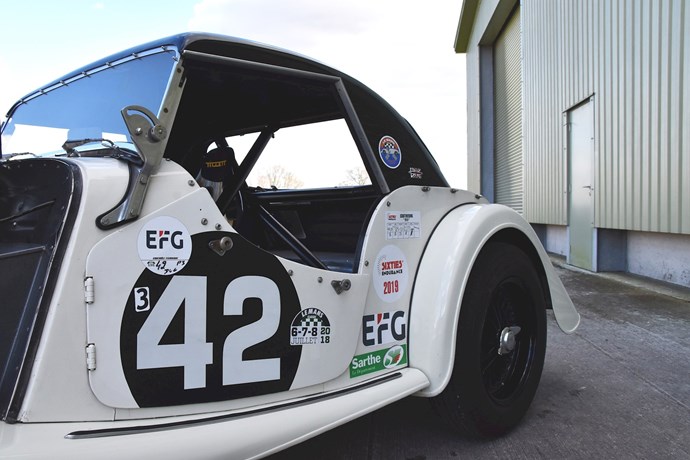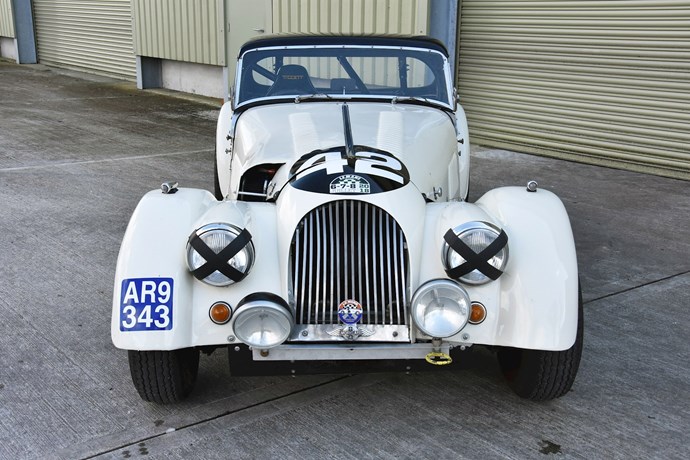 Morgan | Exterior: Paint & Bodywork
Finished in a classic Ivory White with an attractive contrasting Black finished hardtop and wire wheels. The bodywork remains in great condition with minor signs of track damage; pitting and chips, as to be expected from a seasoned professional such as this. The paintwork is decorated with countless event stickers, worn proudly like medals, events such as Sixties Endurance and Le Man Classic 2018.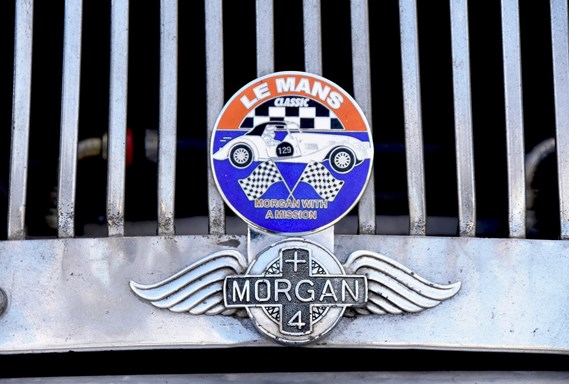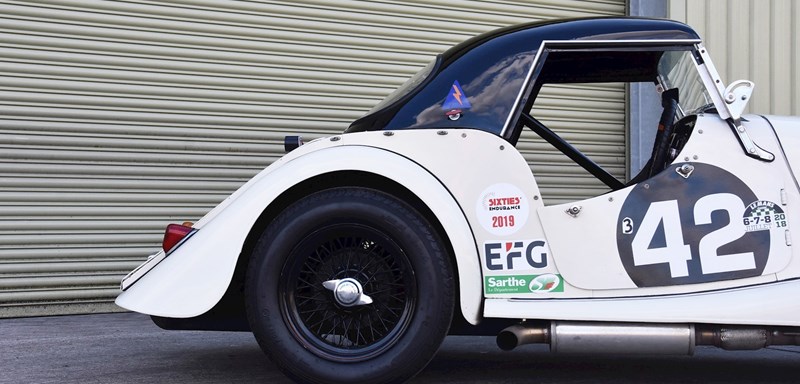 Morgan | Exterior: Brightwork
This Super Sports Low Lines brightwork is featured in fabulous condition, offering a classic patinated shine against the eye-catching paintwork finish, adding to the overall charm of this competitive example.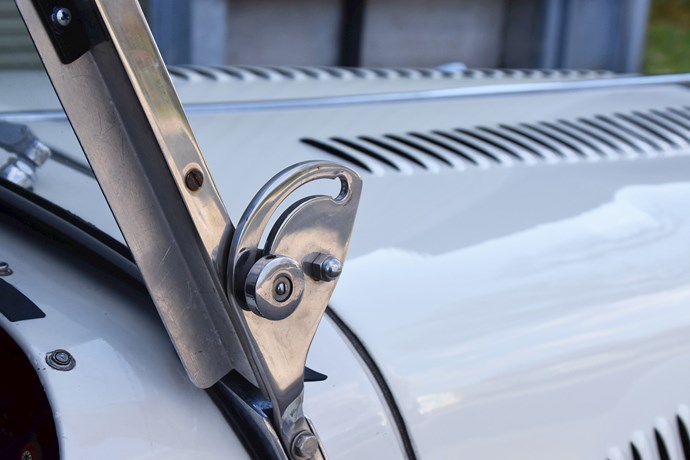 Morgan | Interior: The Cabin
Climbing over the iconic ash frame, you'll settle down into the competition Tillett seat, you are presented with a racing simplified interior while managing to retain the classic essence of what makes these models so great. Offering a traditional wood veneered finished dash paired with black vinyl and charmingly aged dial/gauge bezzles.
Strap yourself in via the FIA approved 5 point harness and you are surrounded by the pure necessities of a pole position racer, fitted with a Sparco extinguisher and bespoke fitted roll cage, a competitive cabin that creates an ultra-lightweight racing contender.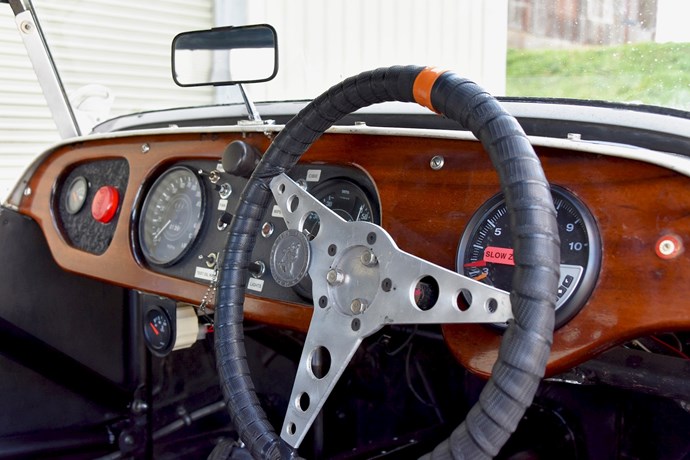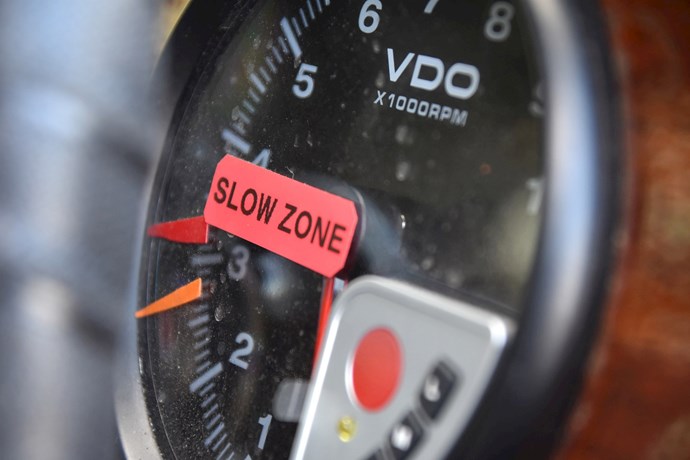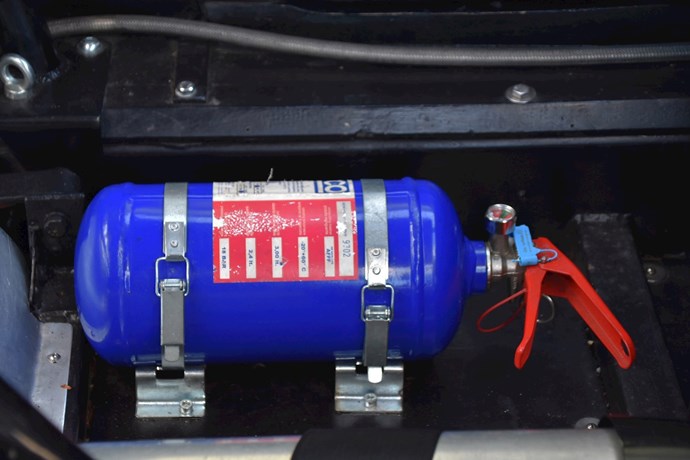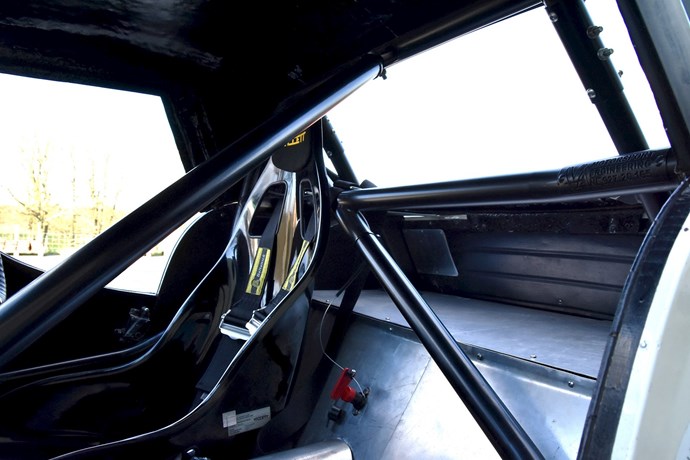 Morgan | Mechanicals
A result of its recent restoration this '62 racing remains in brilliant mechanical condition, treated to a full race engine rebuild in 2018, today boasting twin carburettors with K&N air filters and original gearbox. Further upgrades added during its rebuild include custom-designed billet crankshaft, lightened flywheel, race curve ignition and Koni comp shock absorbers to name a few. An exceptional example with running offering great power and control, an indication of the quality of build.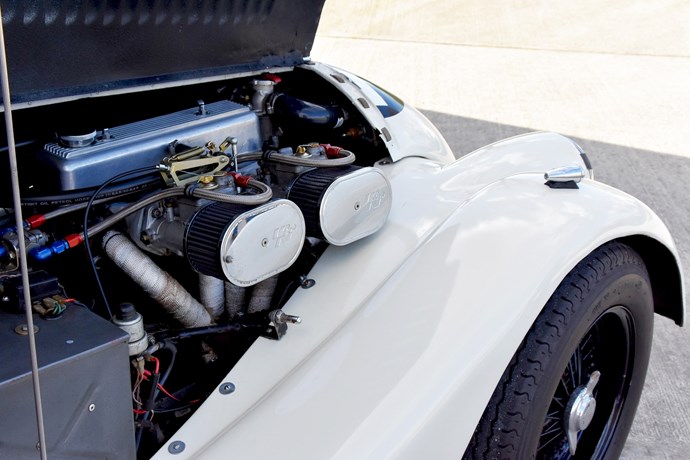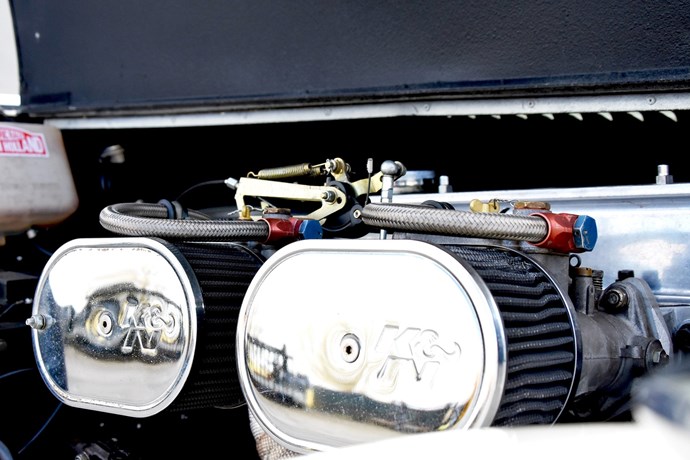 Interested?
This Morgan Plus 4 Supersport is for sale by DM Historics. If you are interested in getting behind the wheel of a seasoned and proven winning historic racer such as our Morgan Plus Four, then please enquire by phone or email. We are more than happy to welcome any serious buyers to our premises to view the car in its current state and to view our facilities.