1924 Bentley 3-Litre Open-Tourer
NOW SOLD
ENQUIRE ABOUT SOURCING ANOTHER EXAMPLE
Emerging from humble beginnings from a garage off Baker Street, London in 1919, The 'W O' Bentley quickly achieved fame as a competitive touring car, capable of challenging the best of European and American sports cars in what was a fast-growing industry. Bentley launched models immediately gave the 1368 cc Bugattis, that dominated racing at the time, a run for their money, with double the size of engine and strength made up for the extra weight, proving a champion with continuous success at Le Mans 1924, 1927, 1928, 1929 and 1930 - the Bentley is legendary.
Unveiled in 1919 at the Olympia Motor Exhibition, the Bentley 3-litre was offered in a limited run of approximately 1,600 models, with a large portion bodied by Vanden Plas as either an open tourer or with saloon coachwork. Bentley's four-cylinder fixed head engine featured single overhead camshaft, twin magnetos and a four-speed gearbox with right-hand drive change control. This model, whilst only partially developed, quickly became a legend in automotive racing history.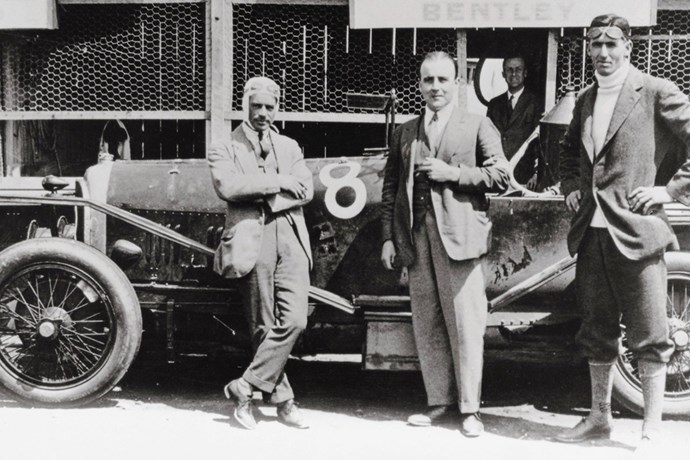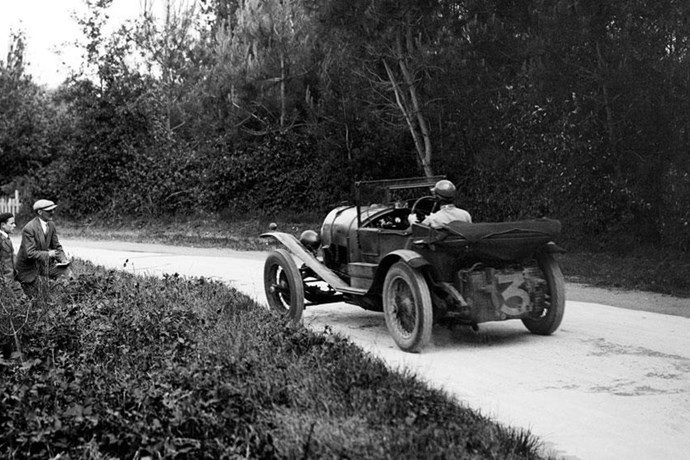 HISTORY | 1924 BENTLEY 3-LITRE OPEN TOURER
Built-in April 1924, Chassis 589, was UK registered to 'XU 205' and delivered to its first owner, a W H B Moorehead, Newry, finished in the long chassis four-seater configuration. While the first ownership was not fully documented, recording Mr Moorehead as a major of the Battalion for the South Down volunteers, some of the Bentley's earliest history can be seen in the form of photographs from the Bentley Drivers' Club (BDC) magazine 2002, showing Chassis 589 in Northern Ireland, Londonderry on VE Day, part of the Heywood family.
As the years went on the Bentley was able to further track changing of hands making its way from Sutton Coldfield to Coventry and then back again, between the late 1940's to the early 1960's, finally arriving to a Mr Maxwell Gilbert, Birmingham, an engineer for Moss gears. Following a short stay with Gilbert, Chassis 589 was purchased by a Robert (Bob) Ward of Sutton Coldfield, entering into what would be the longest ownership, just short of 40 years.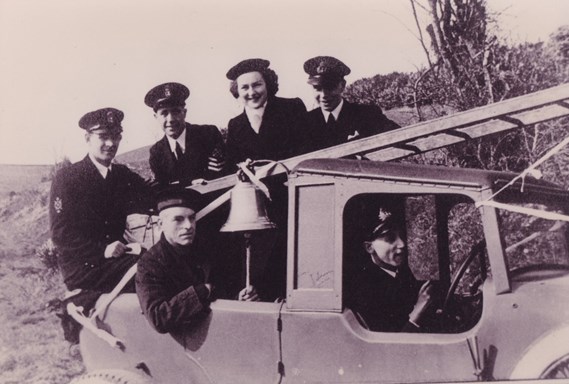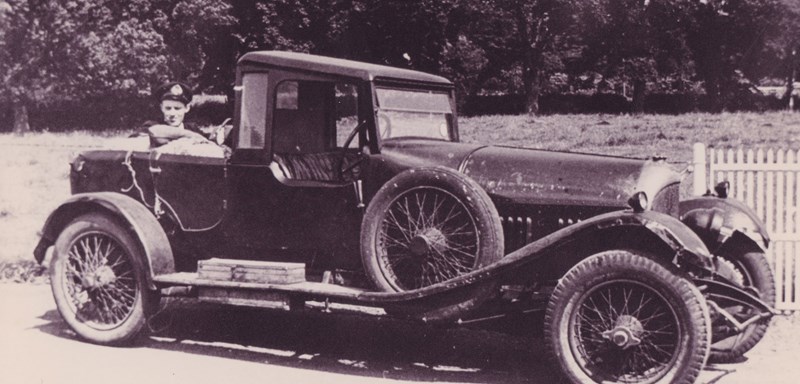 Mr Ward purchased the Bentley when he was just 22 years old in 1962, after discovering the Bentley in a sorry state stored in a local garage lock-up. Part of the BDC, Ward enrolled the help of his fellow Bentley owners who worked tirelessly to get Chassis 589 up and running within 2 years. Part of Ward's and partners no expense spared build, the Bentley was completed as a homage to the Vanden Plas coachwork models, finished in a classic 'Bentley Green'.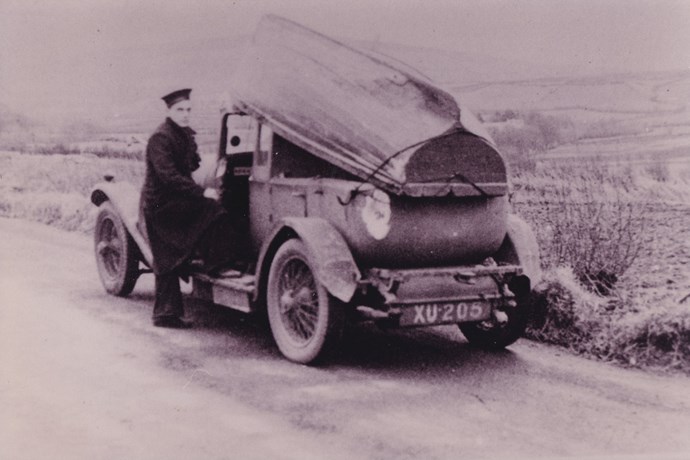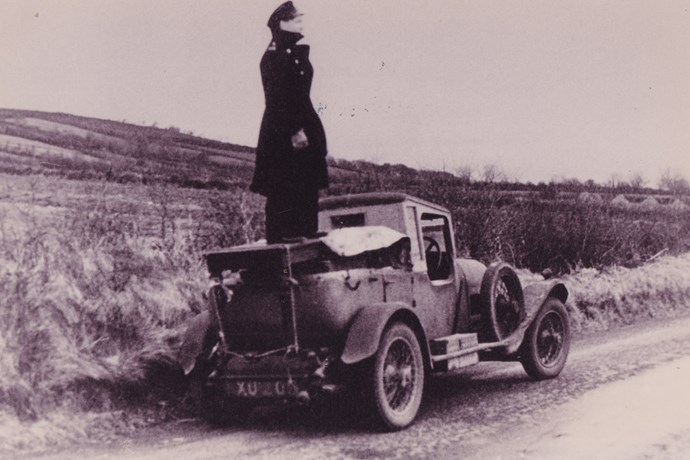 VANDEN PLAS COACHWORK
Established in 1870, Vanden Plas are well known up-market and luxury automotive bodywork specialists. The Vanden Plas name became a high-end model designation for countless car designs throughout the years, first arriving in the UK in 1917, Vanden Plas built the bodies for more than 700 Bentley chassis' between 1924 and 1931.

HISTORY CONTINUED...
Quickly becoming well known in the Bentley Drivers' Club circles, in 1969, Chassis 589 was asked to be the pilot car for the Jubilee Run to Outlon Park, part of the 'Bentley Golden Jubilee Book 1919 -1969', 589 and Mr and Mrs Ward can be seen featured throughout.
For the next 30 years the Bentley 3-Litre was consistently used from family holiday's to Cornwall and Norway to every BDC trip local and national, Mr Ward and his beloved Bentley did it all and in the words of Ward "in 38 years has never let me down on the road".
In December 2000 the Bentley was reintroduced to the market and sold to a Mr Shield of Leicestershire. At the time Chassis 589 had been treated to replacement pistons and fitted with a rare 6 1/2-litre rear axle, the 3-litre was also now finished in Ivory White, Black with Red trim.
From the day of purchase, Mr Shield set out to discover the Bentley's history, reaching out to previous owners, BDC members and The W O Bentley Memorial Foundation. Mr Shield documented countless correspondence with these parties, slowly piecing together Chassis 589's past, presenting a fantastic read in the accompanying history folder. Alongside building the history folder, Shield also changed the Dynamo from three wire to two wire, fitted an electronic voltage regulator and 12-volt LED lighting.
Following Mr Wards tradition, Shield proceeded to love and cherish Chassis 589, joining the Bentley Drivers Club and immersing himself in the lifestyle and culture of classic car ownership.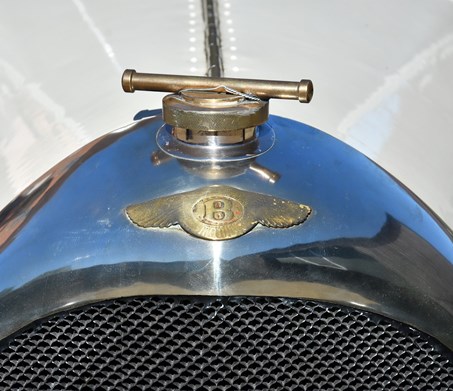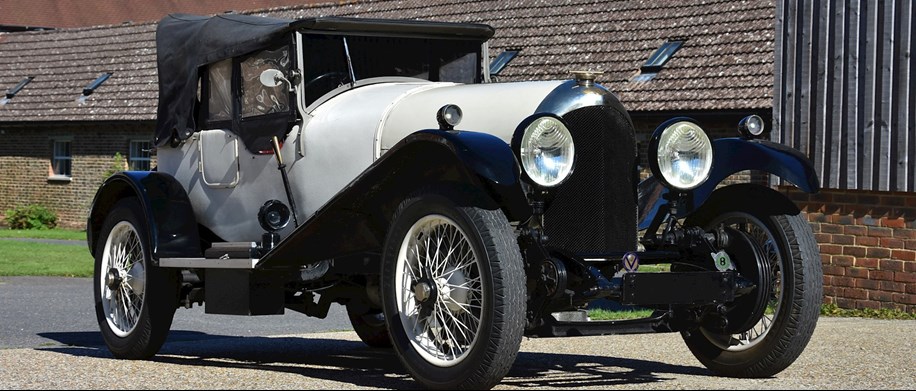 Since entering the DM Historic workshop in 2018, the Bentley has been treated to no expense spared overhaul. Treating this particular Vanden Plas homage to all-new Red leather trim with elegant Black carpet and Red piping, continuing the transformation to the exterior changing the Ivory White to a classic Black. Works didn't stop there as the Bentley's mechanicals were also been given the specialist treatment by Pre-war Vintage specialist, Kingsbury, seeing the example brought back to perfect running condition, rebuilding magnetos, all new period correct exhaust system and fuel system (piping, pumps and tank) in the process. Completing the transformation to the tune of in excess of £73,000.
This fantastic W O Bentley offers a unique opportunity to enter ownership into a vintage machine with eligibility into iconic events such as Mille Miglia and Flying Scotsman.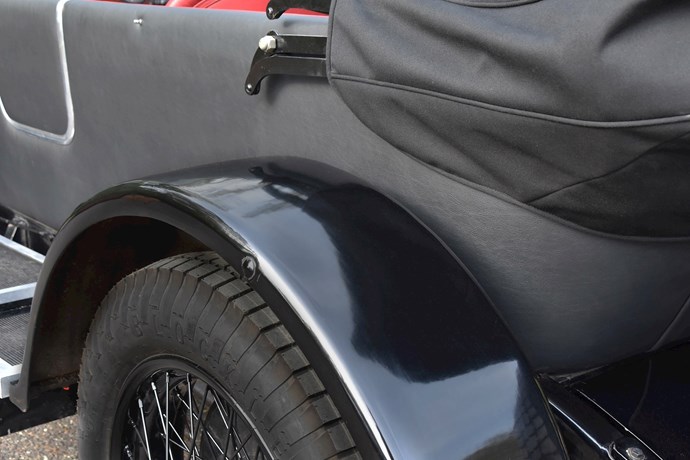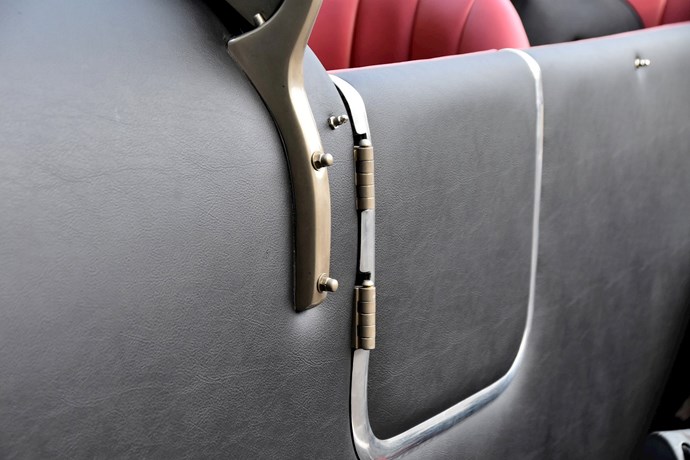 BENTLEY 3-LITRE: EXTERIOR
Since its Vanden Plas transformation in the early 1960's and paired with its most recent restoration actioned by DM Historics, the Bentley's exterior is presented in exceptional condition. The newly finished Black exterior, refurbished wheels, lights and bespoke ordered tonneau cover and spare wheel cover give Chassis 589 a brand-new look that is not only elegant but perfectly encapsulates the W O design brilliance.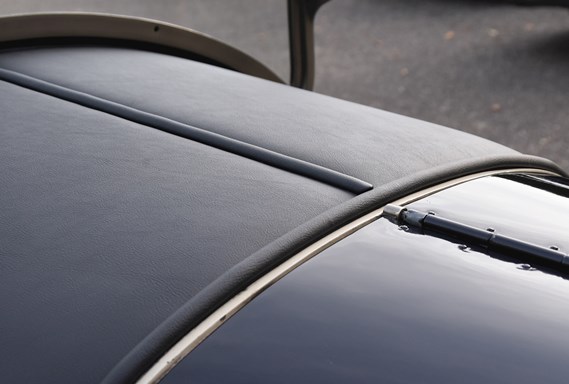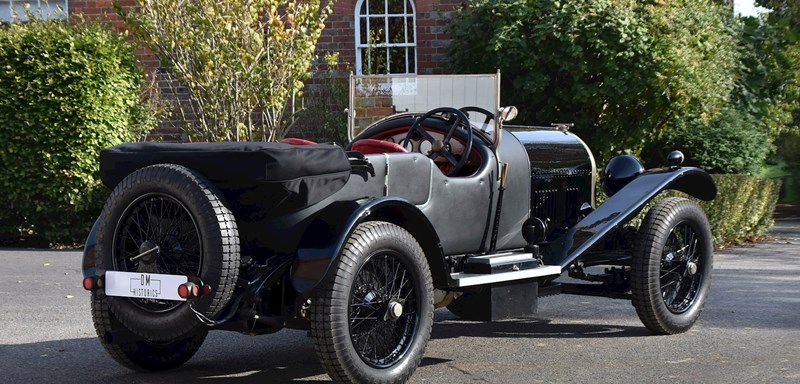 BENTLEY 3-LITRE: INTERIOR
The level of details continue as you enter the Bentley via the passenger side and slide across the racing styled staggered seats to place yourself behind the original 18" four spoke steering wheel. Surrounding yourself in beautifully finished Red leather with contrasting Black carpets and Red piping. Approaching 97 years of age, this vintage Bentley retains original dials and gauges in fully functional condition.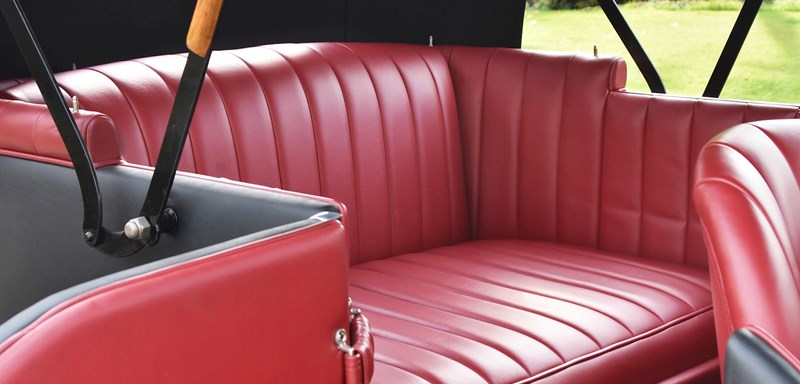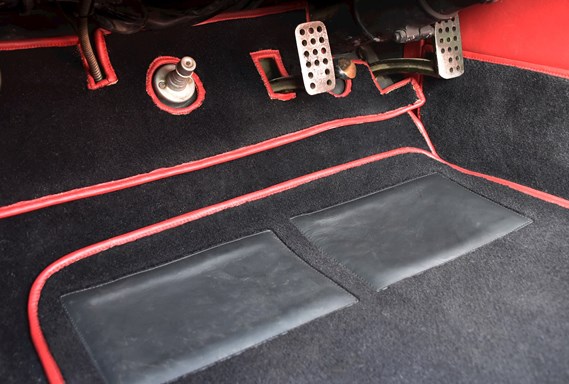 BENTLEY 3-LITRE: MECHANICALS
Following its extensive mechanical attention, Chassis 589 runs like a dream, starting perfectly on the button and pulling itself powerfully along the road via its smooth running 3-litre four-cylinder engine with sloper carburettors and a period-correct four-speed gearbox.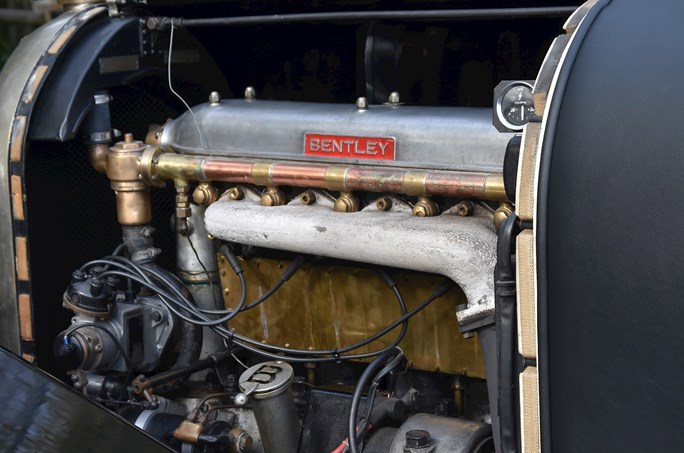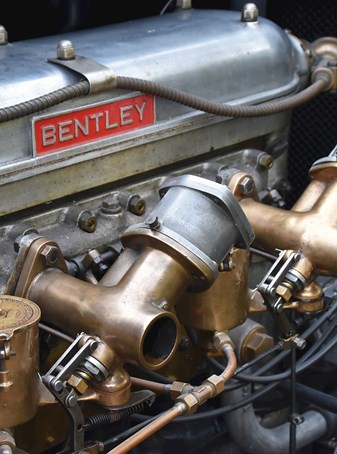 INTERESTED?
Don't miss a wonderful opportunity to invest in not just an exceptionally finished 'W O' Bentley, benefiting from long-term BDC ownership but a true piece of automotive engineering that is noted in the historic racing hall of fame. Please enquire by phone or email. We are more than happy to welcome any serious buyers to our premises to view the car in its current state and to view our facilities.