1953 Jaguar XK120 FHC - Ex Pebble Beach
1953 Jaguar XK120 FHC - Ex Pebble Beach
NOW SOLD
Enquire about sourcing another example
The Jaguar XK120 was unveiled in 1948, it was originally intended as a testbed for Jaguar's new XK engine. Due to the sheer beauty of the car, the response was fantastic, causing Sir William Lyons to put the car into production. The XK120 was the world's fastest production car up until 1955 when the Mercedes 300SL was released. Production of the FHC began in 1951 and all XK120 production finished in 1954.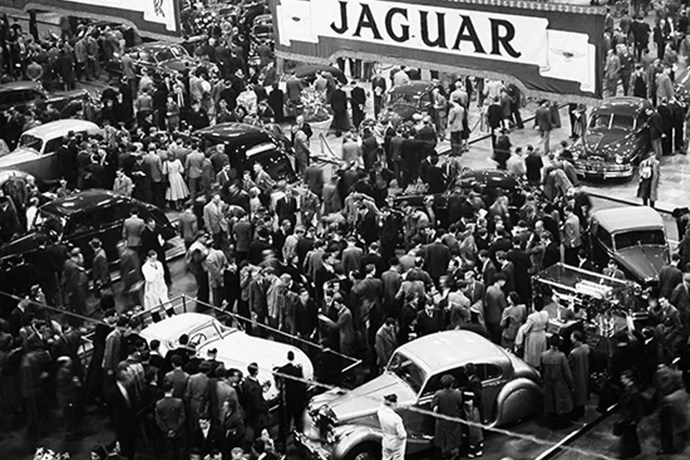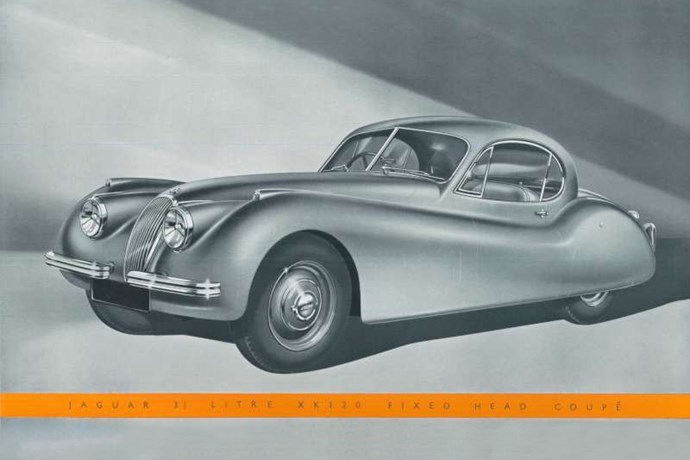 HISTORY | OVERVIEW
First registered on 16th July 1953, Jaguar XK120 #669035 was delivered to Aberfeldy, Scotland. The car went on to live a storied life with ties to the Ecurie Ecosse racing team and ownership by renowned Jaguar enthusiasts Robert Kerr and Charles Fripp. The car also featured prominently in Philip Porter's highly respected "Original Jaguar XK, The Restorer's Guide." Remaining perfectly preserved, this 1953 example also took to the legendary Pebble Beach lawn at the iconic August 2018 Concours D'Elegance - 'Postwar Preservation' Class. An original, authentic and unmolested rare piece of Jaguar history.

HISTORY | ECURIE ECOSSE
How Chassis #669035 came to have the Ecurie Ecosse badges is shrouded in mystery. These badges have been photographed on the car prior to 1970 and have consistently been seen in photographs of the car throughout its illustrious history.
Chassis #669035 was distributed by dealer Rossleigh of Edinburgh with the original number plate 'KSG 432', which remains on the car to this day. Rossleigh held the franchise for a number of British motoring icons, one of these being Jaguar.
Rossleigh was a prestigious dealership with a number of future Ecurie Ecosse drivers frequently purchasing cars from the firm. David Murray was one of those individuals, and shortly after establishing Merchiston Motors Murray and Ian Stewart took delivery of the first and second XK120s in Scotland from Rossleigh.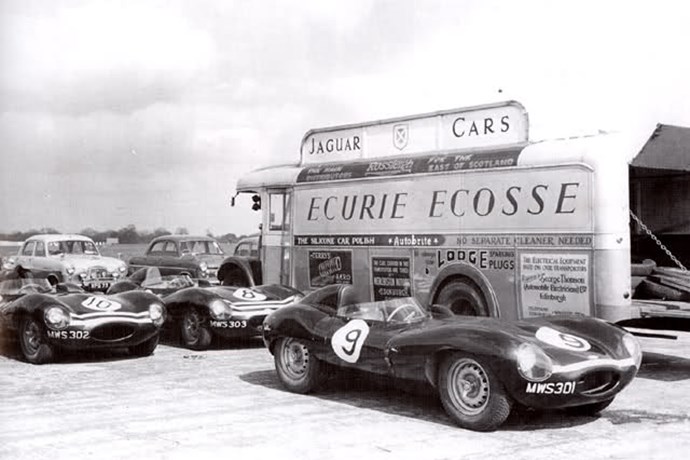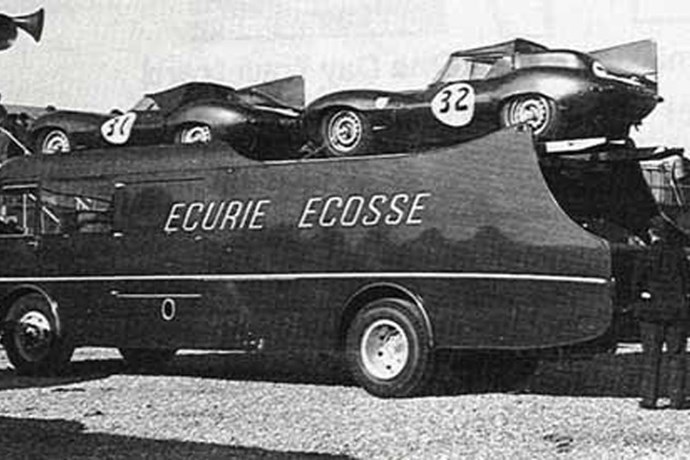 Ecurie Ecosse drivers were known to be fond of the XK120 and the race team soon became synonymous with Scottish motorsport thanks to incredible back to back Le Mans wins in 1956 and 1957. It is believed that shortly after purchase the Nicoll family placed the Ecurie Ecosse badges on Chassis #669035 in support of the national team success and links with the Ecurie Ecosse founder, David Murray.
Ian Stewart conceived the racing teams colour, Metallic Flag Blue during recovery from an accident in which he drove his Jaguar XK120 through a hedge in 1952. He drew the original design for Ecurie Ecosse badge with the shield and St Andrew's Cross plus a little stick man. The stick man was later dropped for the race car badges but kept on the small lapel badges. Today Chassis #669035 still features the proud Scottish racing team's badges, both of which have faired incredibly well after all these years of motoring.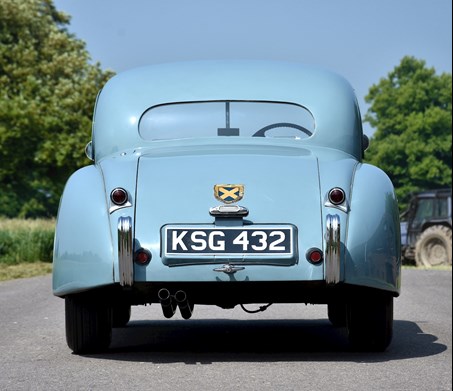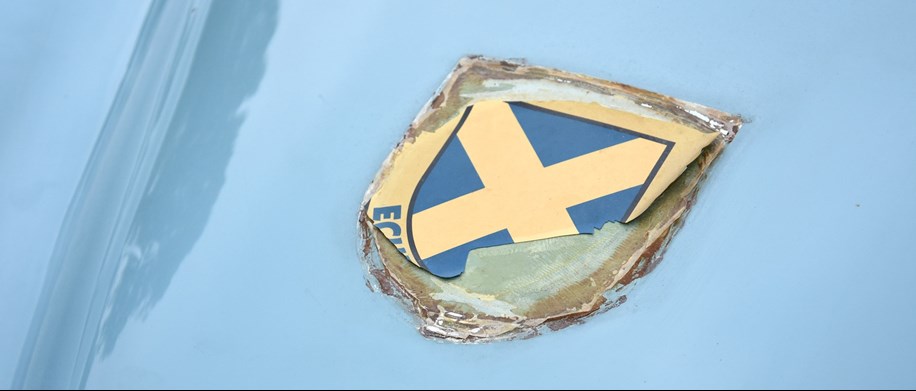 HISTORY | BOB KERR OWNERSHIP
Well-known Jaguar enthusiast, Bob Kerr is responsible for the preservation and restoration of several of the most significant XKs in the market. Kerr was collecting and working on these cars long before restoration or preservation of XKs was viable.
Bob Kerr operated from his base in the picturesque village of Luss, Scotland. Among his collection of XKs was Chassis #660449, one of five original XK120s to compete at Le Mans. Found in a sorry state, Bob restored the car over several years. Not just a collector, Bob was a firm believer in using his cars and can be seen competing in various races and hills climbs in Scotland.
Kerr took ownership of KSG 432 and included the car among his stable of XK120s and XK140s. Chassis #669035 remained in Bob's ownership for some 11 years, during which time the car was campaigned in hill climbs such as Doune and Rumster.
Although Bob used the car for hill climbs, he was truly committed to maintaining the XK's originality. Despite overheating being a known issue on XK120s, Bob retained the Lucas spot lamp in front of the radiator which had been in place since its early ownership and remains to this day.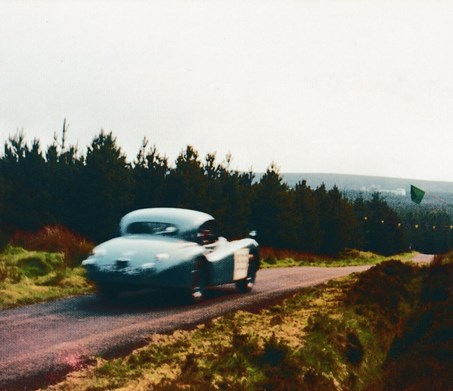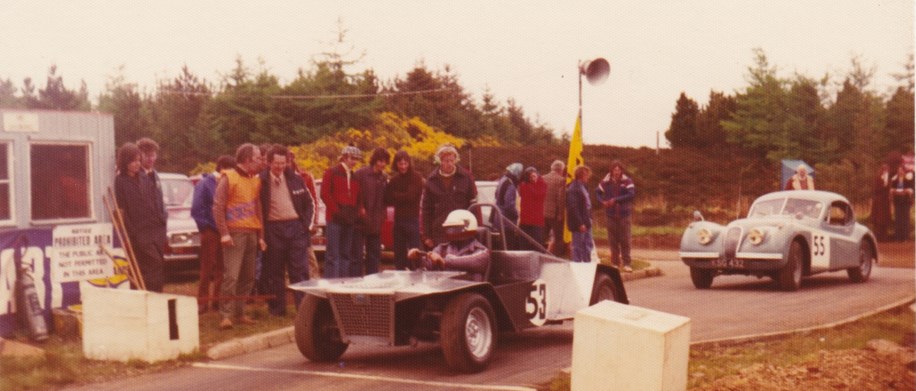 HISTORY | PHILIP PORTER FEATURE
Chassis #660449 features heavily in Philip Porter's 'Original Jaguar XK – The Restorer's Guide' book, a respected body of work used throughout the Jaguar world as a reference point for those concerned with true authenticity. The car features in the book as an example of a totally original XK120 – further endorsement of the car's superb preserved state.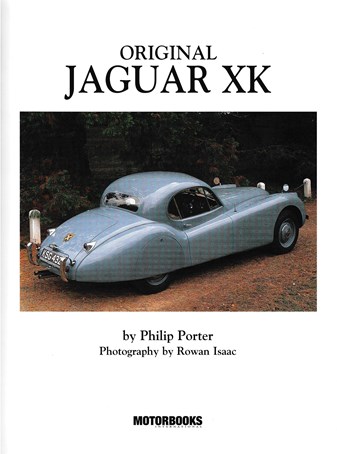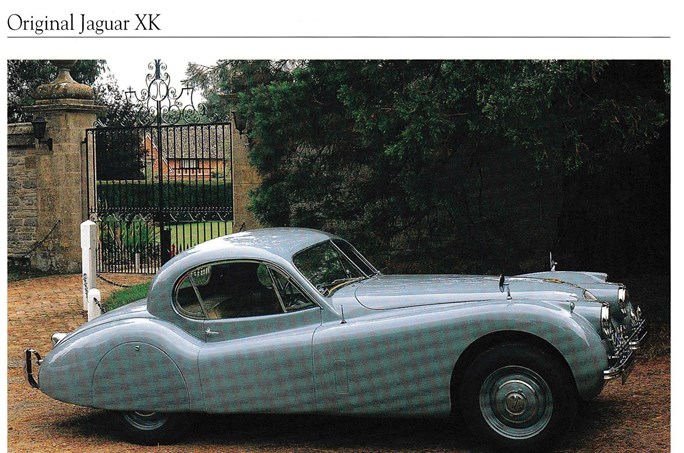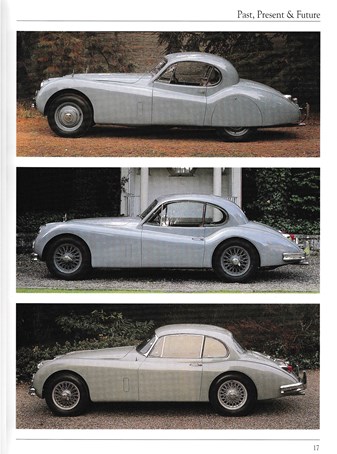 HISTORY | PEBBLE BEACH CONCOURS D'ELEGANCE
All true automotive collectors worldwide dream of receiving that magical acceptance letter branded with the iconic Pebble Beach emblem, that moment became reality for this drop-dead gorgeous XK120 in 2018 when the automobile was selected over fierce competition from worldwide entries to be showcased in the 'Postwar Preservation' class.
Leaving the UK for the first time this classic Jaguar made its way to the famed 18th fairway on the Pebble Beach costal Golf Course. Before taking to the green this perfectly preserved example took part in the Tour D'Elegance, a famed 17-mile drive of twisting coastal roads to the Carmel-by-the-Sea town, the official first day of the Concours, filling 16 blocks of the downtown, showcasing well over 175 collector cars.
With the picturesque rolling Pacific Ocean serving as a backdrop amongst 250+ other incredible classics, the DM Historics team prepared to showcase this XK120 in competition with such cars as a 1970 Ferrari 246GT Dino, 1953 Hudson Italia Prototype & 1961 Maserati 3500 GT. While unfortunately this big cat didn't place, the XK120 performed without fault, impressing the prestigious judges and stood as a true example of 1950's British Jaguar engineering.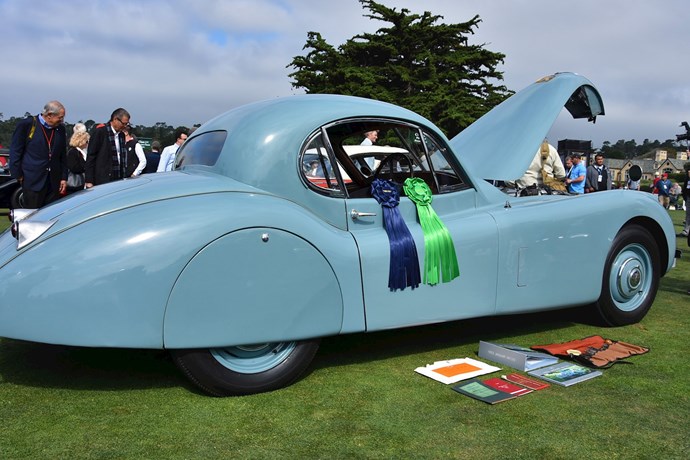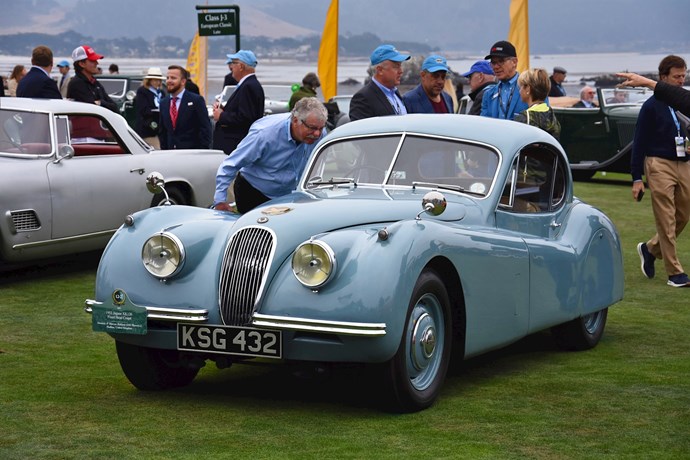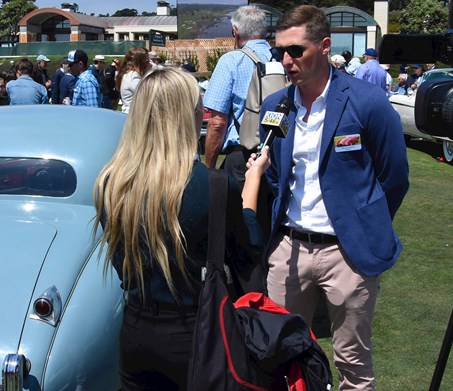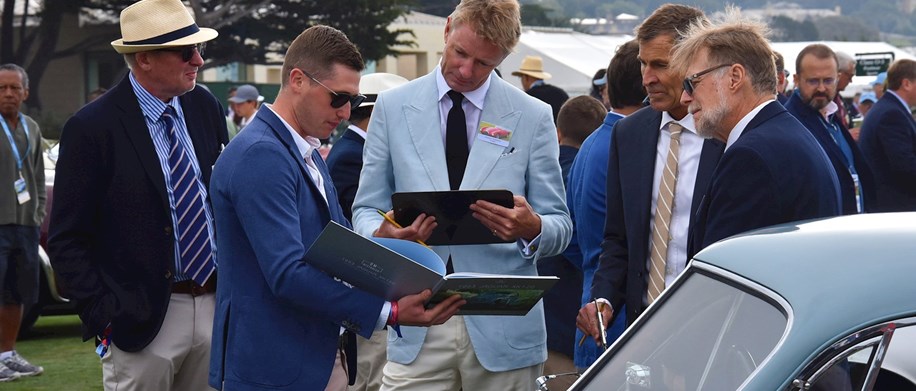 JAGUAR XK120 | DRIVETRIBE
Catching the eye of Drivetribe Journalist, Mike Fernie, the XK120 became the focus of the Drivetribe video on the history and lifestyle of owning such an iconic 1950's classic! While Fernie had a deep love for the make and model, since it was his first-ever toy car given to him as a child, Mike Fernie enlisted the advice and guidance by Drivetribe's very own captain slow, James May, on how to tame this big cat.
CLICK HERE TO SEE THE FULL VIDEO

JAGUAR XK120 | EXTERIOR
Chassis #669035 remained in remarkably original condition as a result of its enthusiast ownership. The car's factory specified Pastel Blue paintwork has gained just minor blemishes and an unrepeatable patina, while the glass and chrome are presented in incredible condition with minimal imperfections but more importantly are all period correct.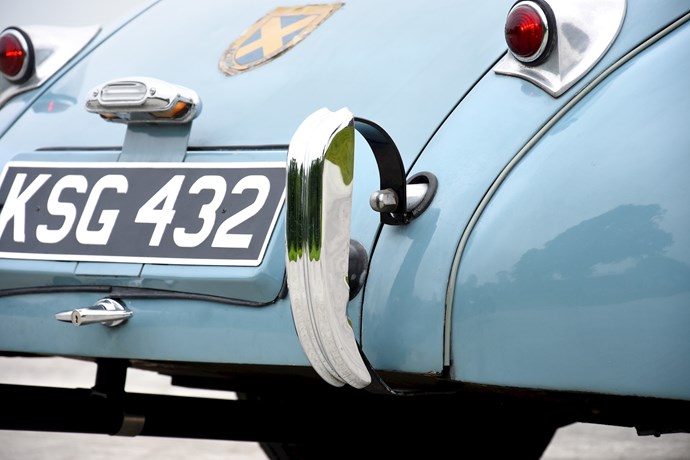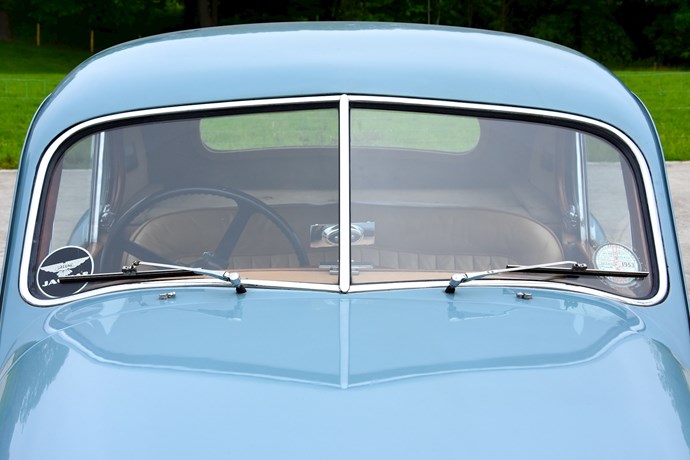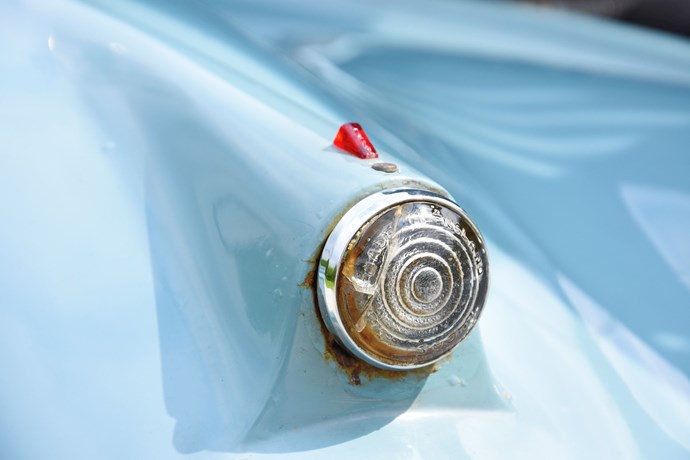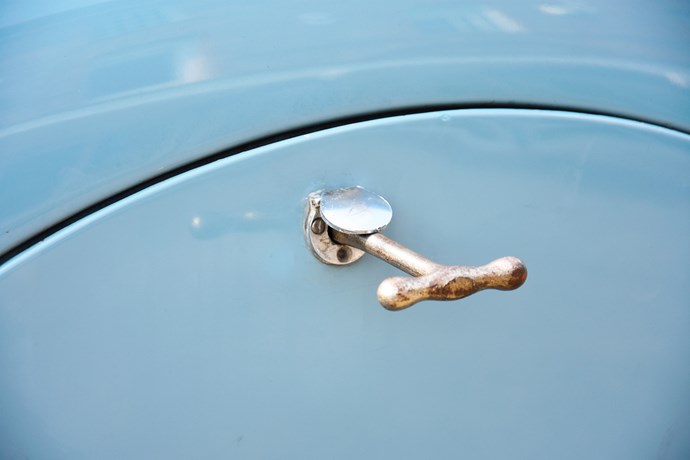 JAGUAR XK120 | INTERIOR
The Biscuit interior trim has been cherished since new and has aged beautifully. Components which often succumb to age are in this vehicle preserved, such as the interior burr walnut wood dashboard and door cappings and exterior chrome work, all of which remain in beautiful, original condition.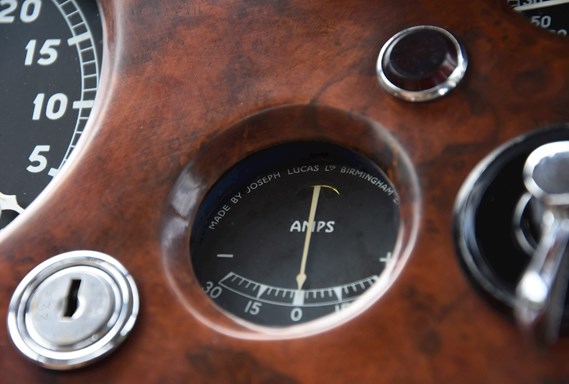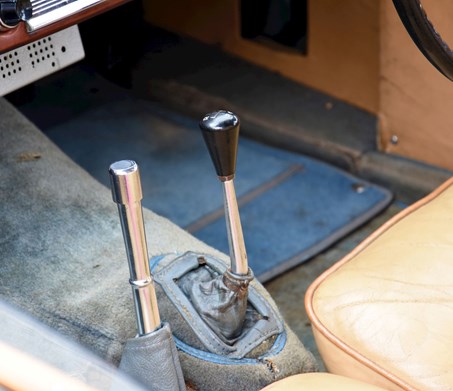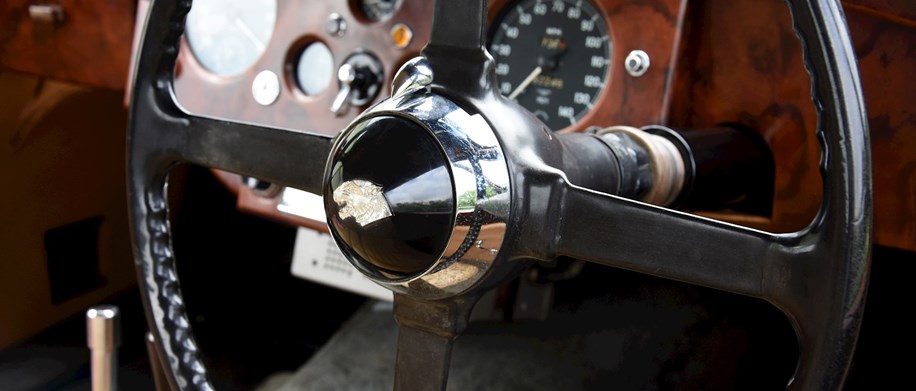 JAGUAR XK120 | MECHANICALS
This 2018 Pebble Beach participant's preservation extends are far as the mechanical. Starting on the button and waking up the iconic XK engine, you'll be serenaded by the smooth 3.4ltr engine playing a classic soundtrack through its period correct exhaust system. Whether you are navigating the twisting Kentish lanes or cruising the California coastline, this matching numbers XK120 performs seamlessly through a precise original 4-speed Moss gearbox.