1956 Austin-Healey 100/4 BN2
1956 Austin-Healey 100/4 BN2
NOW SOLD
Enquire about sourcing another example
After a successful period at the Cape, Warwick, producing Riley-engined cars, Donald Healey expanded into the American market with a series of cars fitted with iconic American engines.
In 1952 he formed a partnership with the Austin company of Longbridge birthing the Austin Healey taking the US market by storm. The Austin Healey 100 (BN1), given its name for its ability to reach 100mph, a remarkable triumph of its time, was introduced at the Earls Court Motor Show in 1952, boasting a Healey designed chassis running mostly standard Austin parts, including the four-cylinder 2.6 litre engine from the Austin A90 Atlantic, coupled with a three-speed gearbox.
This lightweight two-seater design with its long bonnet, waterfall grille and countless other features made the "100" a versatile roadster, built for coastal cruising as well as taking pole position on the circuit, fitted with two racing type bucket seats and a windscreen which slid into a prone position on the scuttle for track use.
1955 Austin-Healey released the series BN2, following a practically identical formula as the BN1, the second rendition produced 4,604 cars in the 12 months of the BN2 production, fitted with a new four-speed manual overdrive gearbox, larger front wheel arches, different rear axle and the most identifiable change, the introduction of a two-tone finish, now synonymous with Austin-Healey sports cars.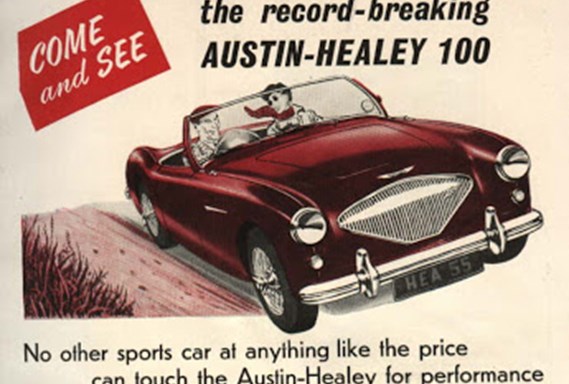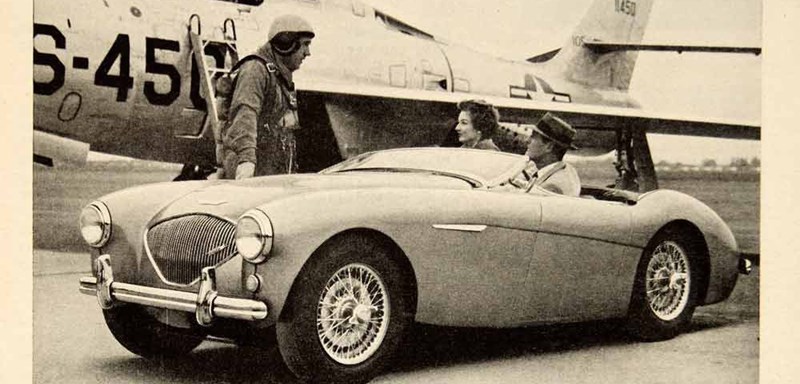 ORIGIN | 100M Performance Model
In 1955, Austin Healey introduced a high-performance 100 model, 100 Le Mans M, fitted with larger carburettors, a cold air box to increase engine airflow, high-lift camshaft and 8.1:1 compression pistons. It quickly came to light the racing potential of these more competitive models, regularly seen competing in Mille Miglia and later offered as a factory-supplied kit, allowing private owners to make their own modifications.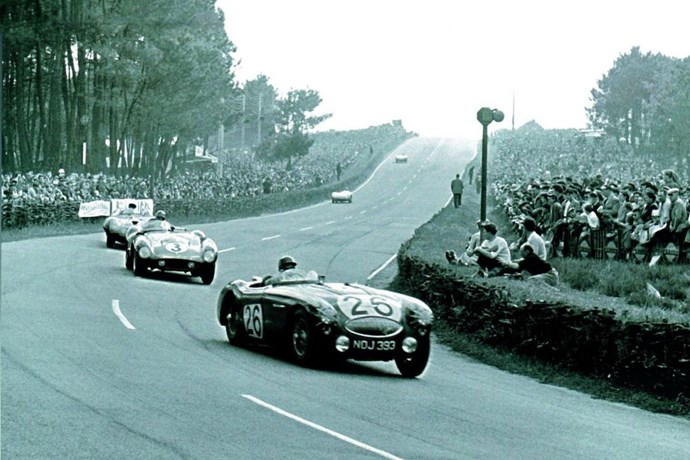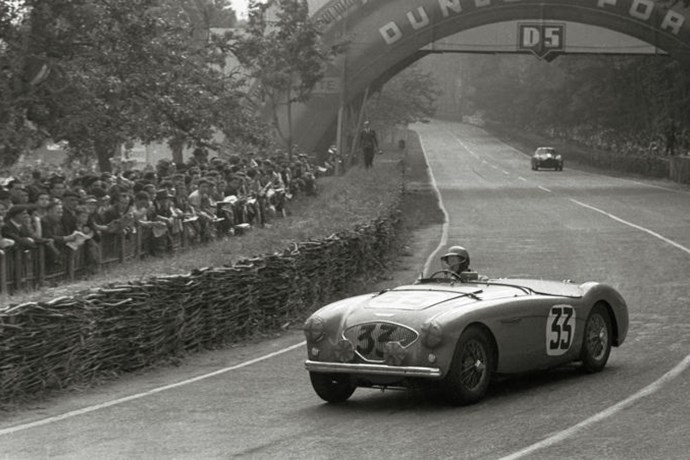 HISTORY | Austin-Healey 100/4
This attractive Austin-Healey 100/4 BN2, a highly sought-after model in today's market, left the production line in May 1956, finished in White and Black, with Black interior and hood. Completed as an original left-hand drive, fitted with factory equipment: laminated windscreen, miles-per-hour speedometer and heater, the Austin-Healey was later delivered and sold via a Los Angeles, US dealer the same year.
Believed to have spent the majority of its life in the states, in wasn't until Spring 2015 that the Healey was imported to the UK by a well-known West Midlands Healey specialist. Arriving in the home of where it all started, Warwick, UK, the Austin-Healey was later offered for sale as full nut and bolt restoration project and at the time was finished in Maroon.
It wasn't long until the Healey restoration was snapped up by British sports car enthusiast, based out the south of France, looking to restore the car as his latest addition to his growing collection, placing the car alongside Jaguar E-type's and an Aston Martin DB5.
Starting its restoration in August 2015, the Healey chassis was immediately stripped down and sandblasted exposing the extent of nearly 60 years of corrosion. The chassis required extensive metalwork, placed onto a body alignment jig checking all dimensions, the Healey was then fitted with all new floor sections (front and back), inner sills, 'A' & 'B' posts and bulkhead fascia panels. Other areas that required attention included bulkhead fitment, repairing the rear wings and an overall outer panel adjustment and fit.
Once boasting a newly strengthened shell, the Healey's inner structures were sprayed with anti-corrosion material, all seams and welds treated with seam sealer and the wheel arches were finished off with anti-stone chip. Once completed the shell was filled, treated with high build primer and prepared to be finished in the eye-catching dual combination of Gunmetal Grey over Saint James Red you see today.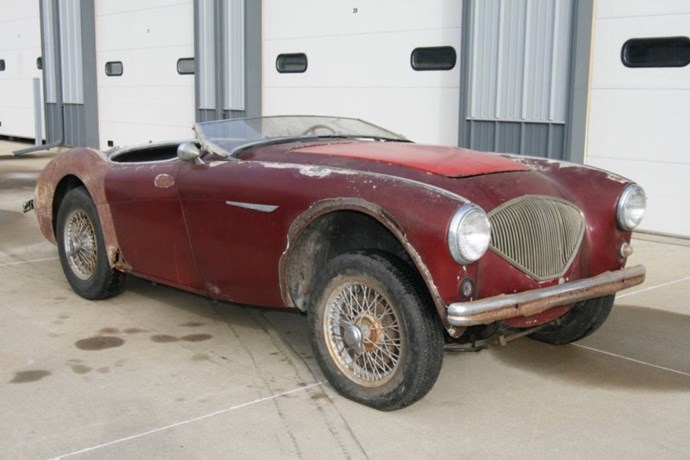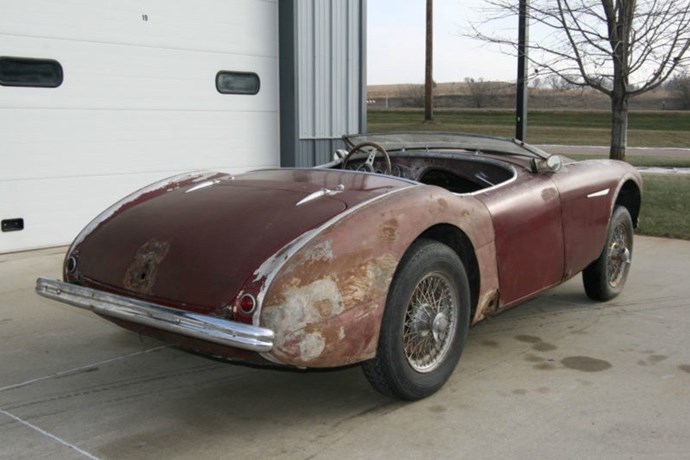 The meticulous attention to detail continued throughout the full nut and bolt restoration, with all running components stripped, sandblasted and powdered coated, including suspension and rear brake drums. Taking advantage of its current state the Healey's new owner decided to introduce several 100M (Le Mans) specification elements during the original 2.7 litre rebuild and running, such as a 100M pistons, full race cylinder head, 100M carburettors and 100M camshaft, other general upgrades fitted include:
4-pot lightweight alloy calipers with vented discs.
New lightweight flywheel.
100M tubular exhaust manifolds and silencer.
With the original matching numbers engine and gearbox now fully restored, the running gears were finished off with a coat of period-correct Metallic Green hi-temp paint.
To complete the Austin-Healey's restoration the interior was bespoke trimmed in a highly desirable Red Ox Blood vinyl with matching English wool carpeting and black armachord. Brand new 15" 72 spoke wire wheels were fitted - the cherry on the cake for this no expense spared restoration.
Upon completion in Summer 2016, the Healey was delivered to south of France to join the owners growing collection, accompanied by a detailed record of its recent restoration, totalling over £120,000, a photographic book and BMIHT Certificate – set to enjoy countless sunbathed coastal journeys.
In August 2019, the Healey was purchased and imported back to the UK, into the hands of DM Historics. This fabulous matching numbers example is now offered to the market, fully shaken down and ready to be enjoyed – a true 1950's British sports car icon.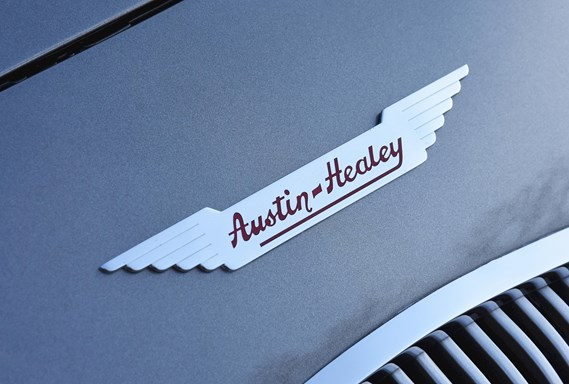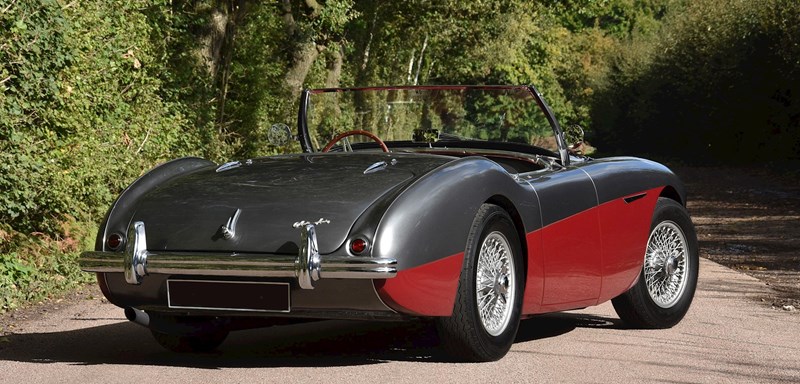 Austin-Healey 100/4 | Exterior: Bodywork & Paint
Upon close inspection of the bodywork, it becomes clear the 100 has been built to a high standard by experienced craftsmen. Since its restoration and colour change in 2016 to Gunmetal Grey over Saint James Red, the paintwork has been treated to a front end refresh up by the original Healey restorers, now offering a fresh and stunning finish to this 1950's sports car.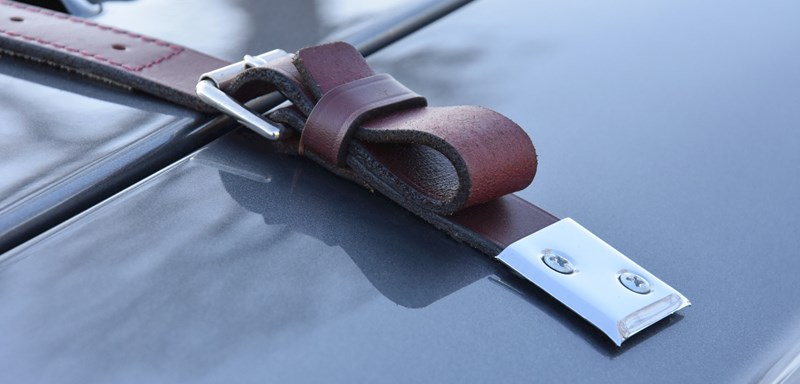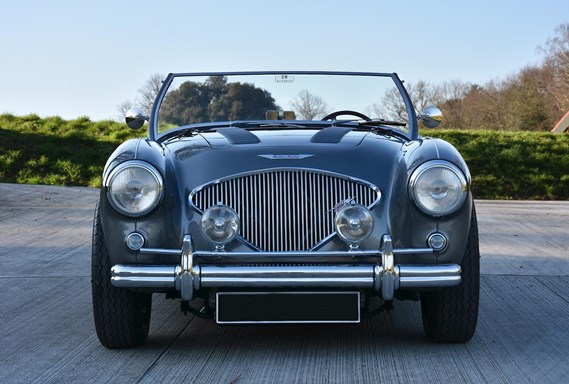 Austin-Healey 100/4 | Exterior: Chrome
The Healey presents all around beautifully kept and polished brightwork, showing minimal signs of wear, helping to highlight the depth of the painted body and standard of its recent restoration.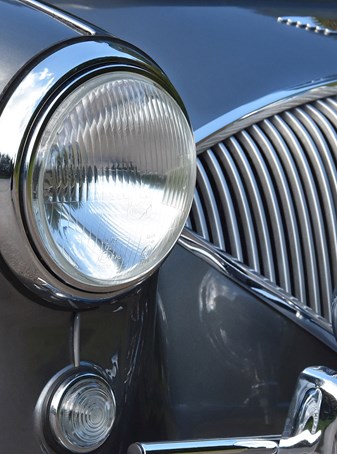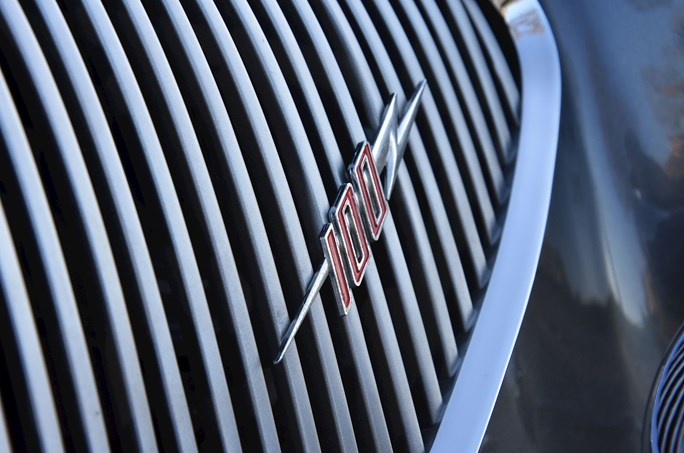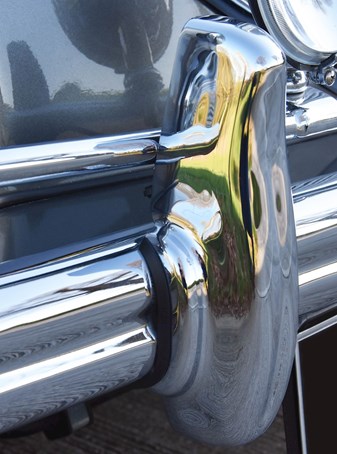 Austin-Healey 100/4 | Interior: Seats
Sporting exceptionally maintained racing-style bucket seats, trimmed in Red Ox Blood vinyl surrounded by matching English wool carpeting and black armachord.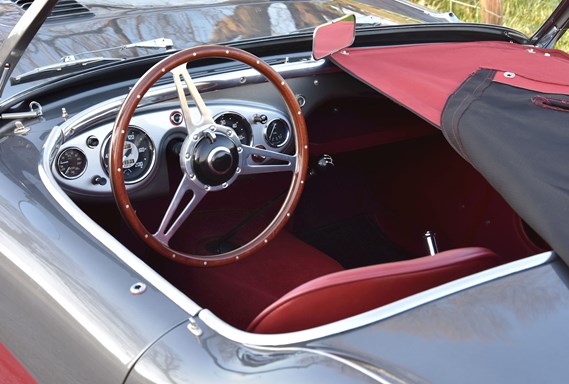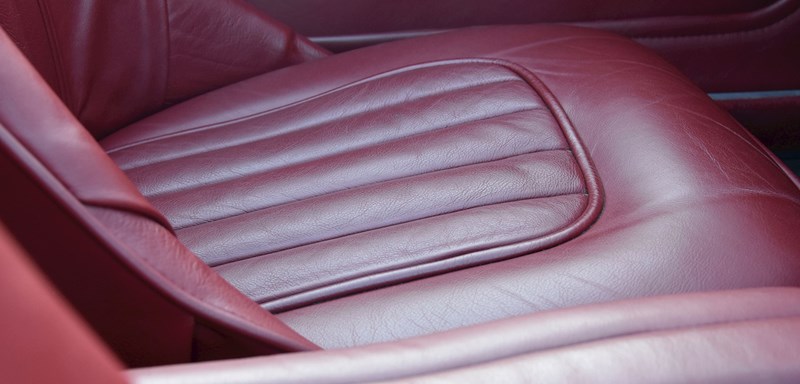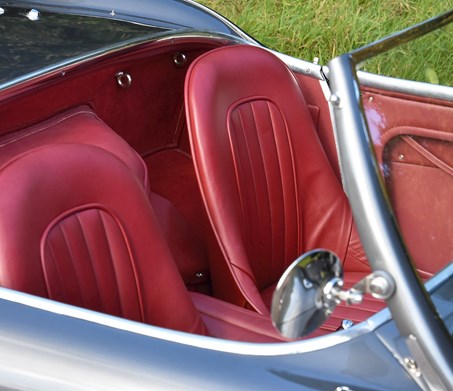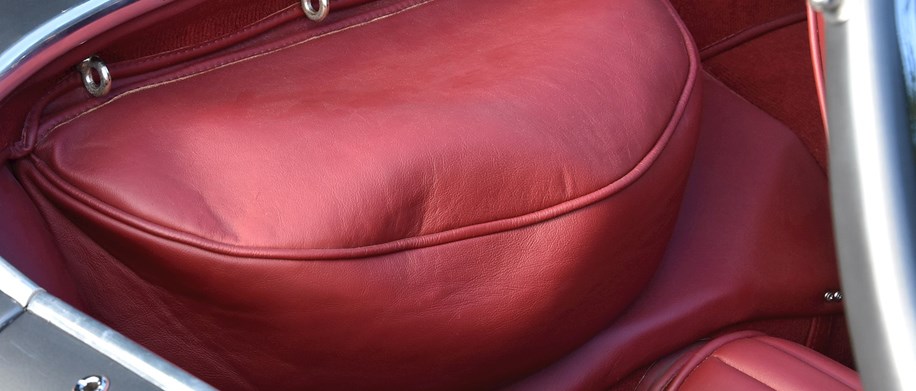 Austin-Healey 100/4 | Interior: The Layout
The Austin-Healey 100 was one the best sports cars of its era due to its lightweight chassis and racing-inspired performance. The cockpit offers a race like a cocoon, with its immersed interior, curved dashboard and gear stick closely positioned to the steering wheel, allowing for precise and even harsh racing changes, appealing to the true driving enthusiast.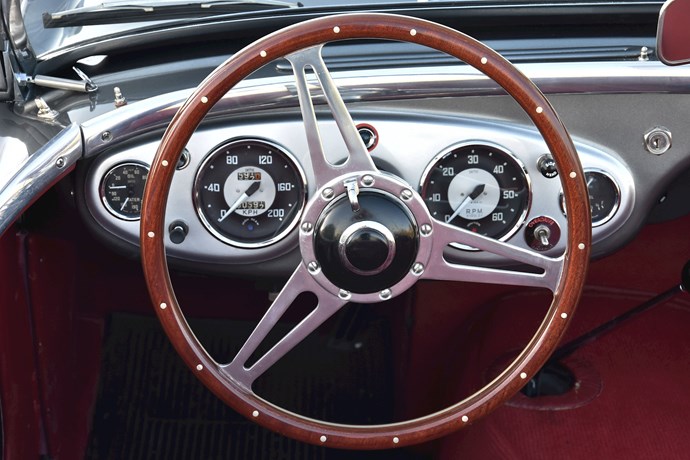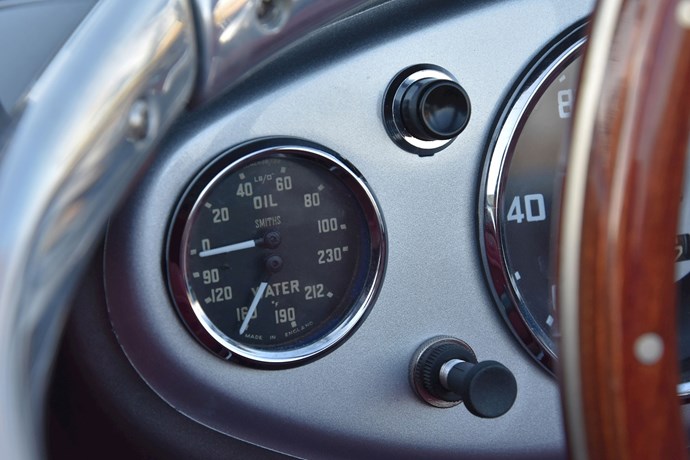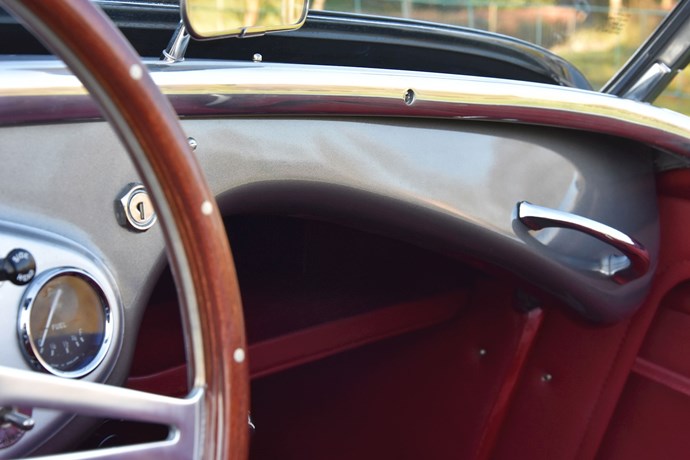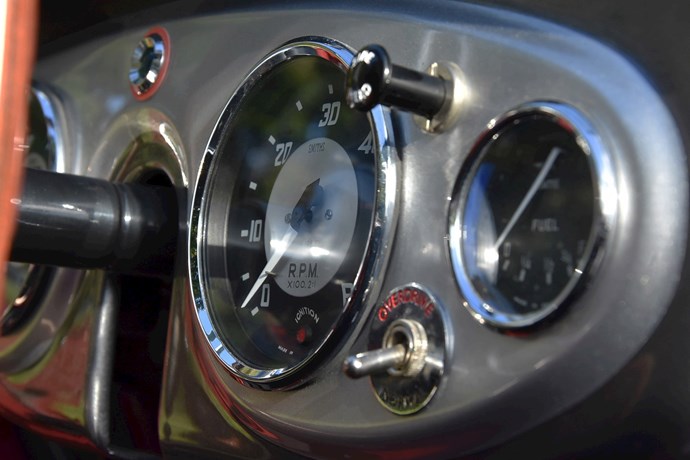 Austin-Healey 100/4 | Mechanicals
As a result of its recent full nut and bolt restoration, the Austin-Healey offers true 1950's sports car representation. Starting on the button, the original, fully rebuilt and upgraded 2.7L 4-cylinder engine smoothly fires up, pressing play on a throaty and raspy soundtrack. Once rolling the sleek design of the 100 is pulled seamlessly through its recommissioned original overdrive 4-speed gearbox. Confidently navigating both beautiful Kentish B-roads, sunny French coastlines and is the perfect candidate for continental touring.