1966 Mustang Fastback 289 V8
1966 Mustang Fastback 289 V8
NOW SOLD
Enquire about sourcing another example
The secret to Mustang's ongoing success has always been a broad appeal that extends beyond the target market, offering great-value packages combining sporty looks, sensible economy and impressive brisk performance. With the opportunity to order from the factory in various specifications ranging from six-cylinder 'economy' to V8-powered luxury and a range of factory options, resulting in no two-factory finished Mustang's produced identical.
Ford created a new class of car almost overnight with the release of the Mustang sports coupé, later dubbed the 'Pony' car, partway through the 1964 season, turning the rest of the US auto industry on its head. The Mustang's design team were given five strict goals that had to be met: fitted with four seats and a floor-mounted shifter, weigh no more than 1,100 kg measuring no more than 5 m in length, sell for less than $2,500, and to be available with multiple power, comfort, and luxury options – setting the benchmark for the Ford design studio winning design.
1966 was the last year Ford offered the original Mustang Fastback and the model took its final year by storm in sales, a staggering 524,791. Known by enthusiasts as "late 65's" models, these V8 examples, true to Ford's promise, were available in a range of different spec engines: "C-code" 289 (4.7 L) engines with a two-barrel carburettors as the base V8, "A-code" engines fitted with four-barrel carburettors and finally followed by the unchanged 289 HiPo "K-code" equipped with a 4-barrel Autolite 4100 carburettor, kicking out 271 hp at top end. The final '66 Fastback model also featured a redesigned grille, new instrument cluster and newly styled wheels.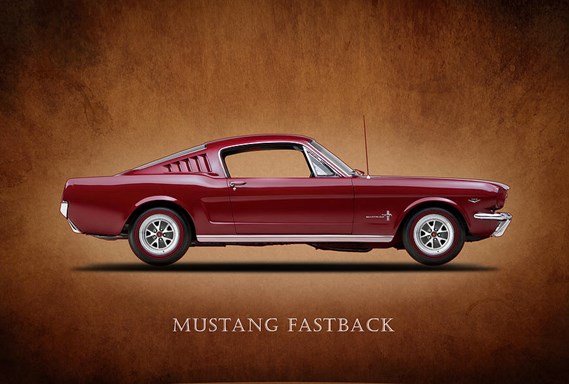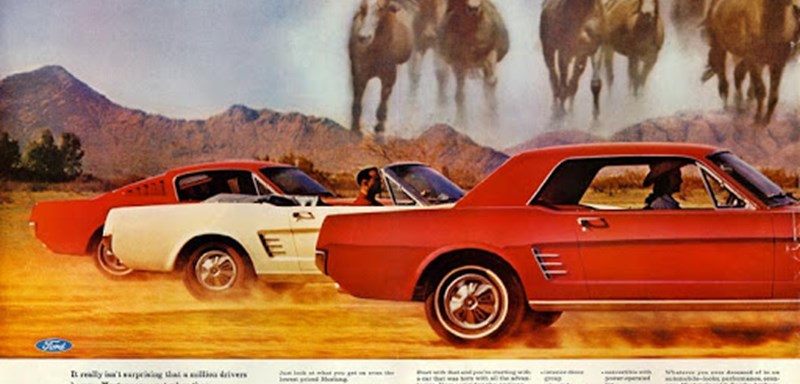 HISTORY | 1966 MUSTANG FASTBACK 289 V8
HISTORY | 1966 MUSTANG FASTBACK 289 V8
Assembled at the biggest Ford production plant of its time, Dearborn, Michigan, during the final year of production in 1966, this fantastic example rolled out the doors fitted with a C-code 289 V8 (4.7) engine boasting a two-barrel carburettor producing 200 bhp driven through a 4-speed TopLoader manual gearbox.
Having spent the majority of its life-based in the Country of manufacture, this Mustang Fastback was sold out of Tennessee via an online auction to a Mr and Mrs Clark of Peterborough UK. Landing on UK soil in July 2013, the Mustang was given its UK registration and was ready to take on the British roads.
After brief ownership with the Clark's, the Mustang was sold in mid-2014 to its current owner based in the picturesque county of Kent. During its time with its current custodian, the Mustang has been regularly maintained ensuring reliable running, preserving originality while subtly fitting desirable upgrades such as a custom-built manifold and dual-pipe exhaust system. Throughout the years this American beauty has been a family loved favourite, enjoyed on countless weekends away with thanks to its 2+2 seating arrangement. With the family now grown up, the Mustang is ready to enchant another enthusiast.

EXTERIOR | THE FINISH
Presented in a globally appreciated Signal Flare Red with contrasting White side decals, this highly drivable example has been carefully maintained and frequently used, resulting in signs of minor paint and bodywork imperfections.
The 289 V8 still retains its factory-correct V8 badge on the front fender, spelling out the engine's cubic inch displacement (289) over a wide "V" highlighting the cylinder layout. Having been owned by countless Mustang enthusiasts, this example has also been treated to several GT homage upgrades such as a GT rear bumper (deleted chrome overriders), fuel filter cap and badge, as well as the fitment of classic Rocket Booster 17" Chrome wheels.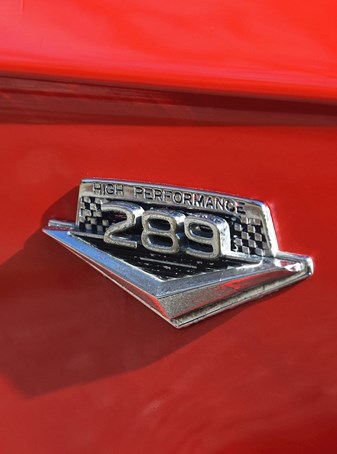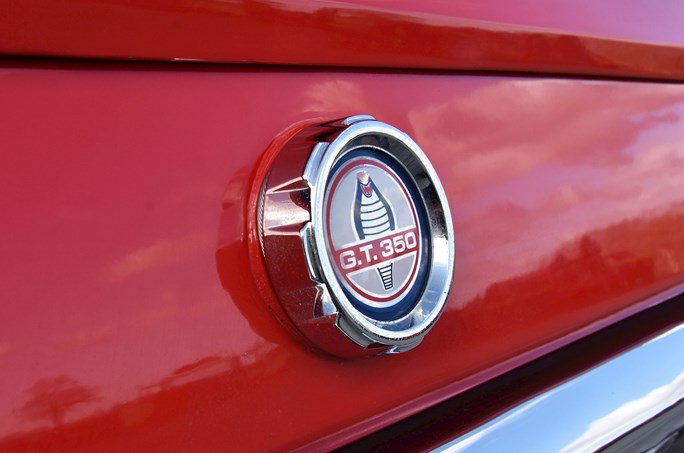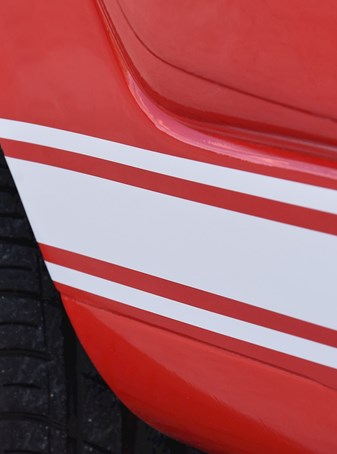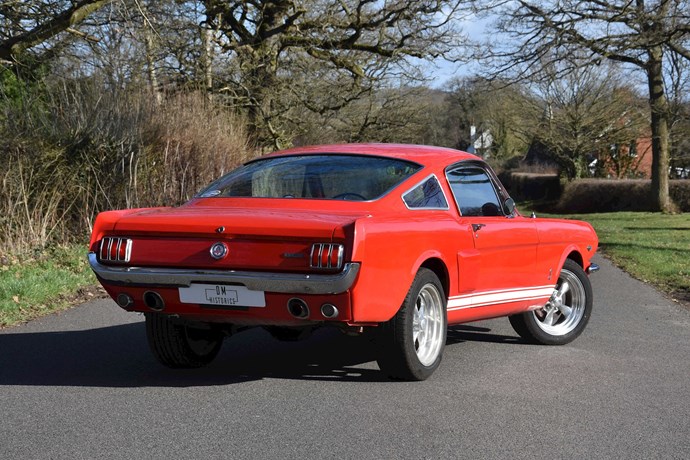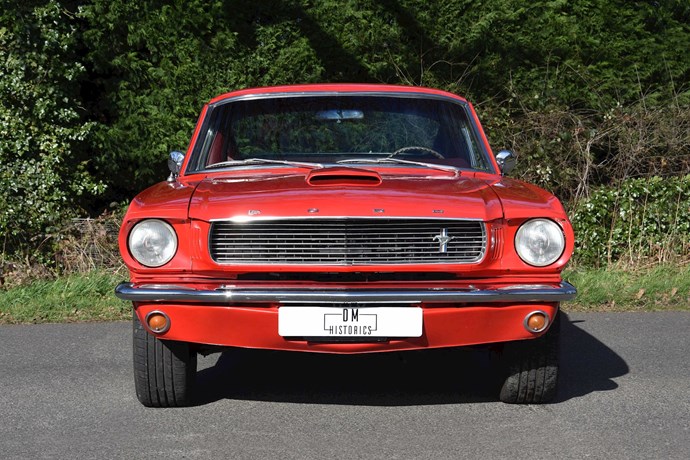 INTERIOR | THE CABIN
Part of the many factory variants available at the time of production, the Mustang has been fitted with a desirable "Deluxe" interior, commonly known as the "Pony Option". This particular option includes embossed galloping horses on the seats, moulded door trim panels and woodgrain appliques on the instrument cluster and glove box. Seen today presenting wonderful patinaed Red vinyl seats and Red met carpets, displaying charming signs of wear and use.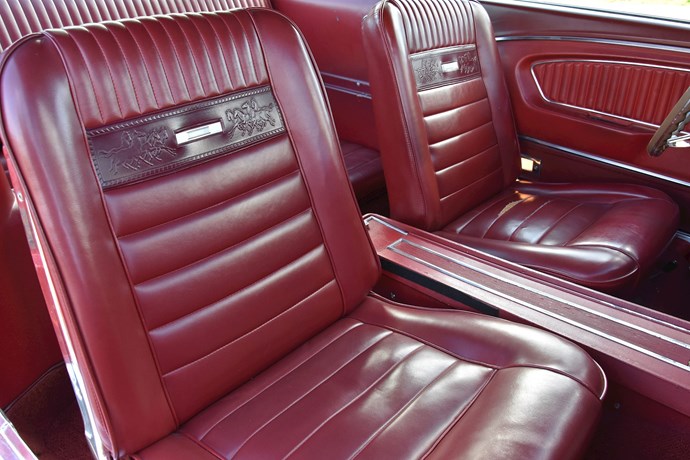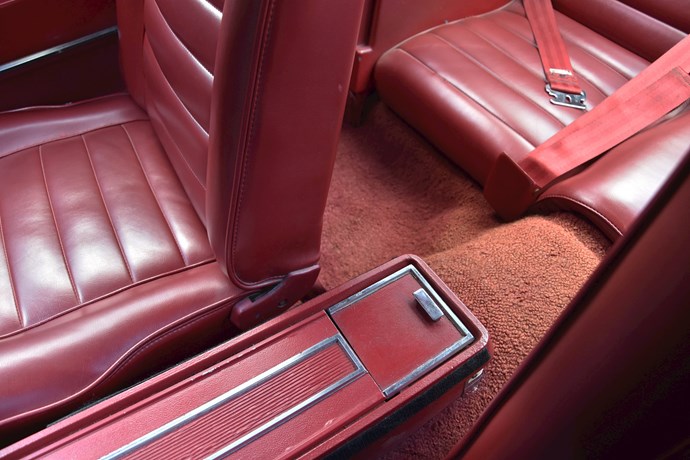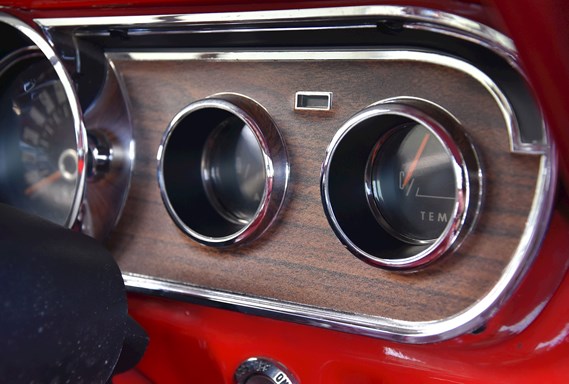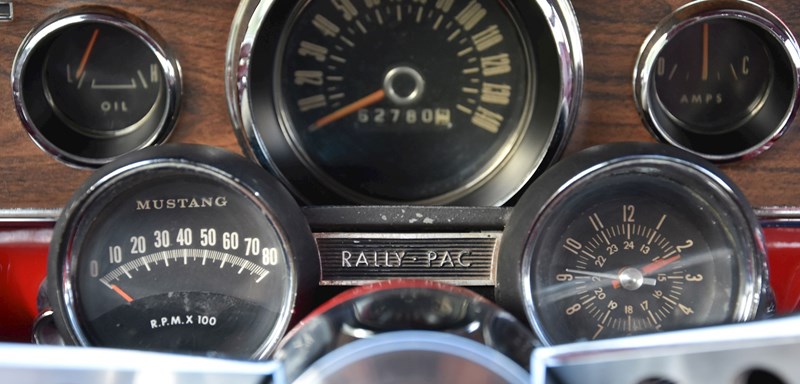 INTERIOR | UPGRADES
Continuing to echo the elegance of the Shelby Cobra design, the Mustang has been fitted with a GT Performance 15" Cobra Steering Wheel and a Rally Pac Gauge Set, further adding to the classic racing feel of this 1960's automotive legend. Other modern upgrades have been introduced including an Alpine CD stereo with Bluetooth connectivity and mic, two Kenwood speakers mounted in a trimmed and bespoke built removable rear shelf connected to a Kicker KX200.2 amplifier.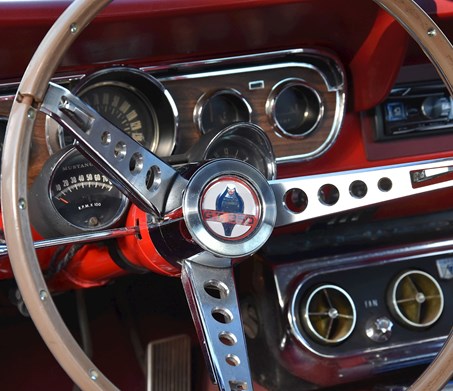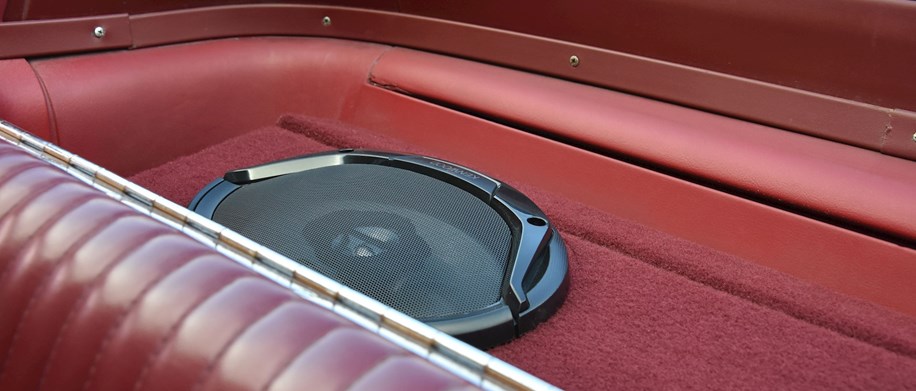 Mechanicals | The Drive
The 289 V8 starts on the button and quickly settles into a pleasing steady idle. Fitted with an uprated Edelbrock 4-barrel carburettor, over the standard 2-barrel, the Mustang offers reliable street performance through its small-block. Select your gear and pull away through the original 4-speed Toploader manual gearbox, the V8 provides a lively performance, hitting play on the iconic American muscle soundtrack.