1974 Aston Martin V8
1 of 967 Series 3 examples

Imperial Blue over Cream trim

Extensive restoration 2017

Original service stamped book
MORE ABOUT THIS CLASSIC...
Appearing in 1969, the long-awaited V8 was initially known as the 'DBS V8' and became Aston Martins mainstream car for nearly two decades. Later shortened to just 'V8', the Series 3 model redesigned the classic look after entering production during July 1973. Designed in response to the forthcoming US emissions regulations, with the greatest distinguishing features being it's enlarged air intake, lengthened bonnet scoop and newly designed rear window panel. The V8 S3 also saw mechanical changes which included switching from Bosch fuel-injection to quad twin-choke 42mm Webbers pushing out an impressive 310 horsepower. If you are looking for an iconic 1974 Aston Martin V8 for Sale, enquire with us today.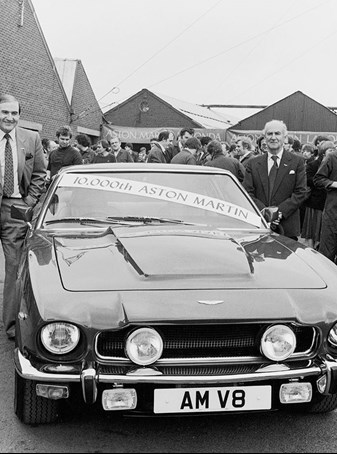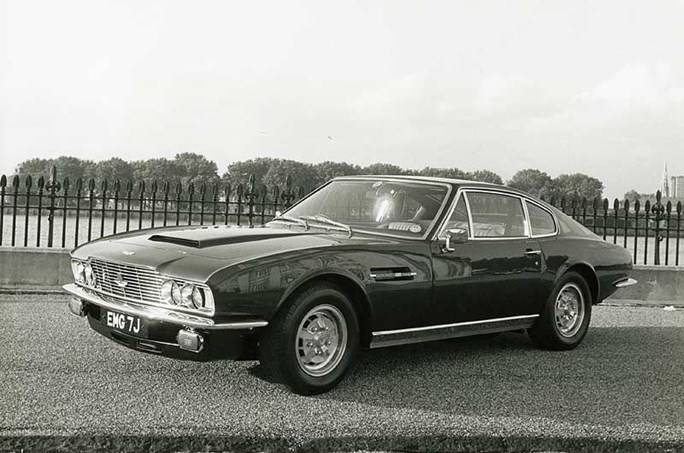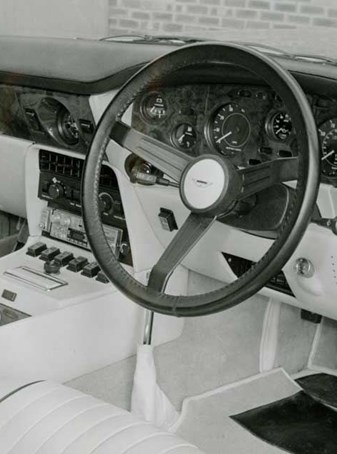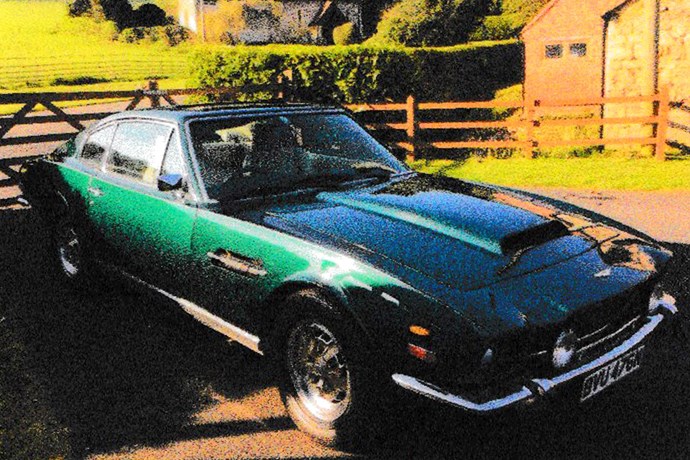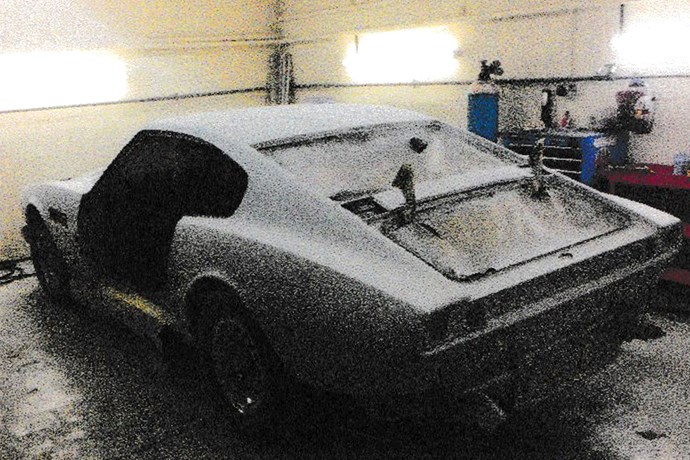 History
This 1974 Aston Martin V8 is for sale by DM Historics. Delivered new to Charles Hurst Aston Martin, Belfast in 1974, 1 of just 967 Series 3 examples produced, the Aston Martin V8 hosts a handful of factory extras including Electric Sunroof, Headlamp Wipers, Over Riders, Side Marker Lights, Rear Fog Lights, Air Conditioning and Lockable Centre Armrest. Accompanied by a comprehensive history file highlighting one of the early owners to be Mr Robinson of Lutterworth, Leics around 1982. Mr Robinson kept a detailed maintenance record throughout his ownership which also records, in mid-1986, a full body respray from the car factory Imperial Blue to Metallic Green.
Believed to have changed hands early in 2000, the V8 entered the ownership of Mr D Walker of Walker Executive Coaches. Mr Walker continued consistent maintenance on the car which also included fitting new stainless-steel exhaust manifolds in 2001. The accompanying history file features numerous invoices and completed work receipts made out to both Mr D Walker and Mr G Walker up till 2016. The file also includes a V5 stating registration to Mr G Walker in 2012.
2017 saw the V8 enter the hands of Mr Hammond who immediately set out addressing the Aston's wear and tear issues. The car was treated to new carpets, re-chromed bumpers, new windscreen, new window and door rubbers, refurbished wheels and rustproofing. In September the same year, the V8 underwent a body respray to take this 70's sports car classic back Imperial Blue colour, while also repairing the original Cream interior, all to the tune of just over £8000.
Continuing along the line of past owners, the V8 has since been treated to extensive metal and bodywork, ensuring a strong, solid and reliable body to keep this classic ready for countless more miles of motoring.
Supplied with a complete history folder featuring consistently recorded MOT certificates dating back to 1984 and an original service book containing 22 stamps from Kensington-based independent marque specialist, Ian Mason starting in 1982.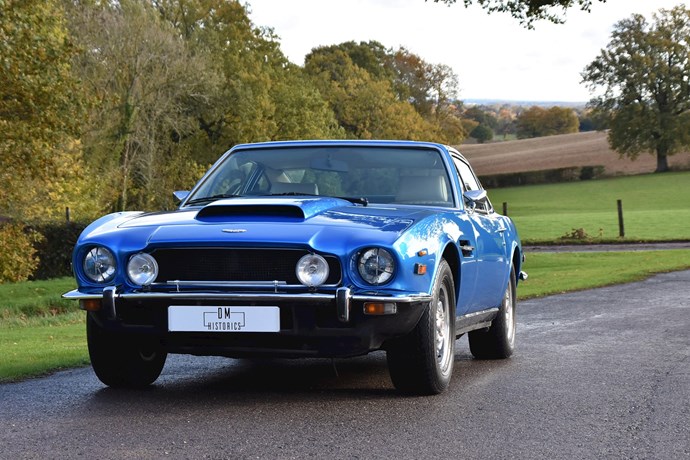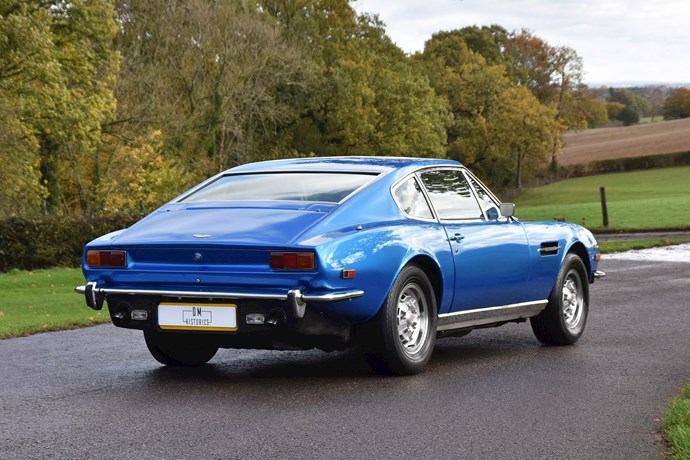 Exterior | BODY
The V8 presents a solid body due to being meticulously maintained throughout its life which includes 2017 rust-proofing and extensive metalwork by DM Historics in 2019. Having received an exterior respray several years prior, the Aston Martins 'Imperial Blue' paintwork is in great condition, with no visible motoring marks.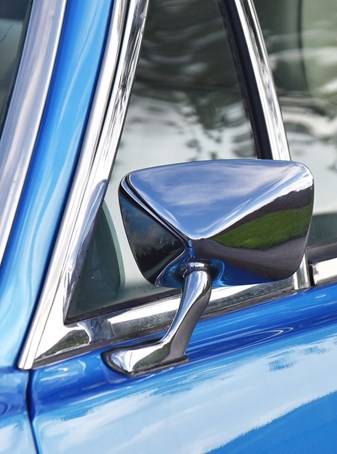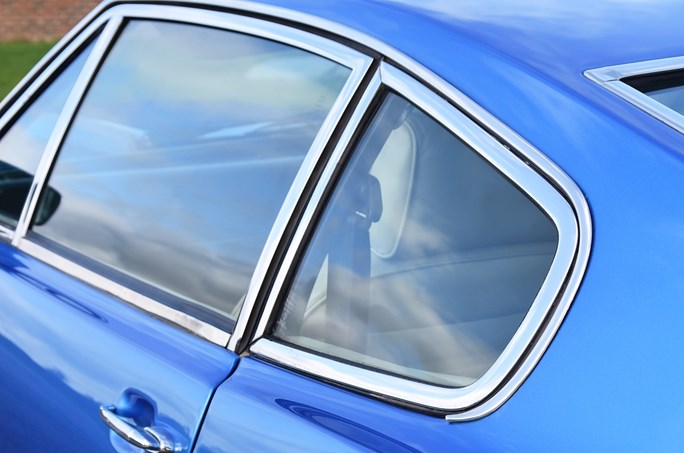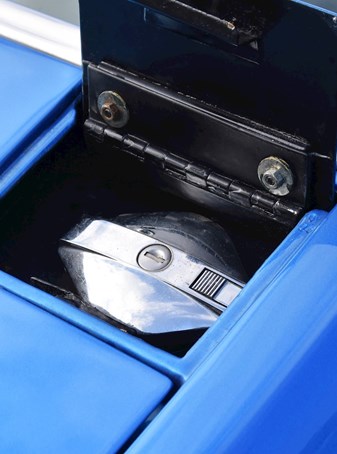 Exterior | BRIGHTWORK
All around the Aston Martins chrome work is in stunning condition for this classic motoring machine. Its clear by the quality of the re-chromed bumpers, that no expense has been spared in restoring the V8 exterior.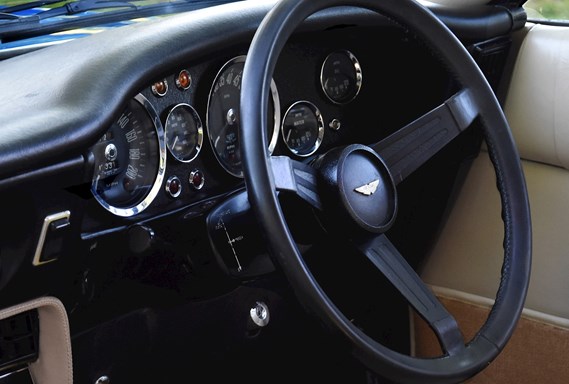 Interior | Steering Wheel
Presented with a factory style 3 spoke steering wheel with a cast plastic centre featuring an original slight worn Aston Martin wing badge. Showing slight wear the steering wheel fits perfectly in your hands for that ideal driving experience.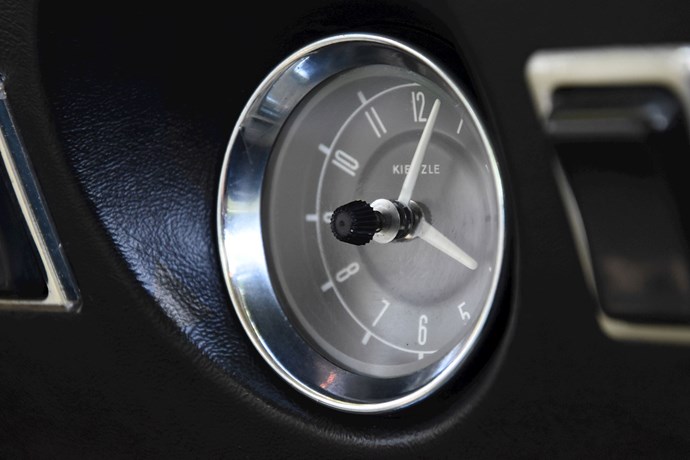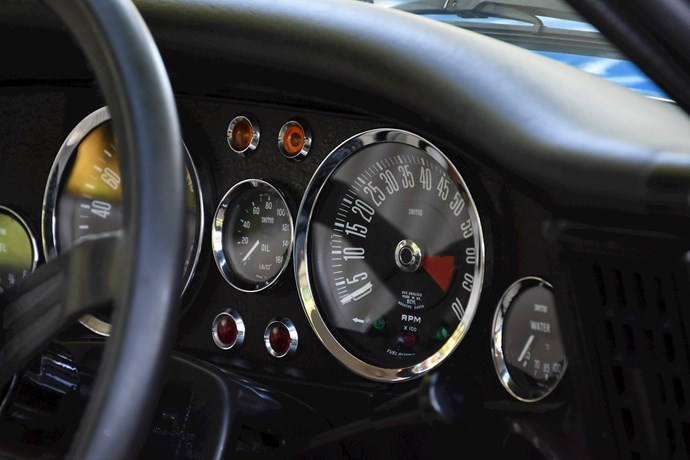 Interior | Dashboard
A true Aston Martin V8 enthusiast will instantly recognise the luxuriously designed dash, with its well-maintained instrument cluster, chrome bezels, all with unmarked dials, glass and factory black dash.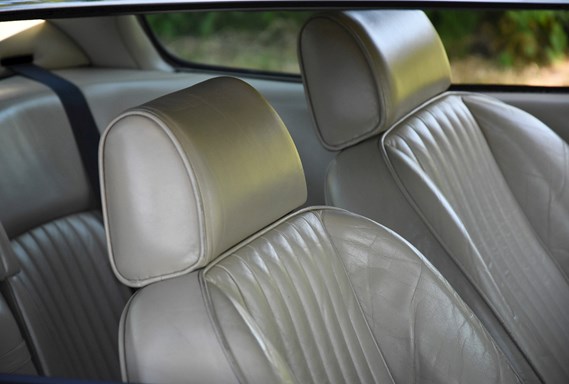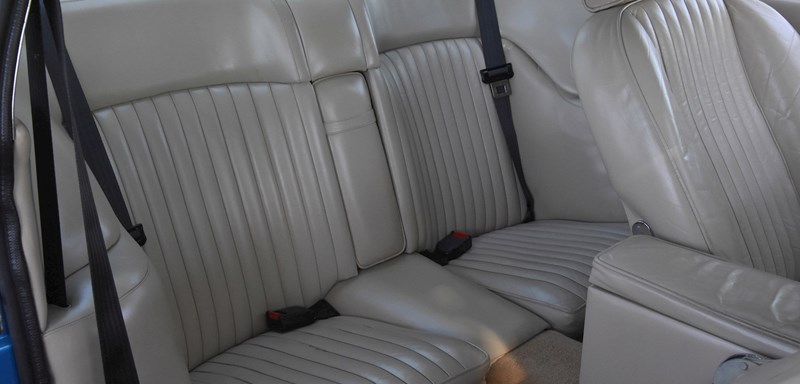 Interior | Seats & Trim
The Imperial Blue exterior is perfectly paired with Cream leather seats and a mixture of leather and material trim. The Series 3 was a 2-door model with 2 leather rear seats accessible via dropping forward the front seating.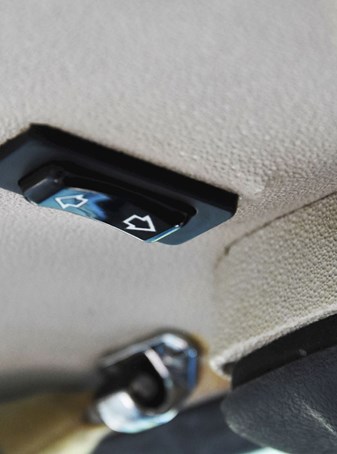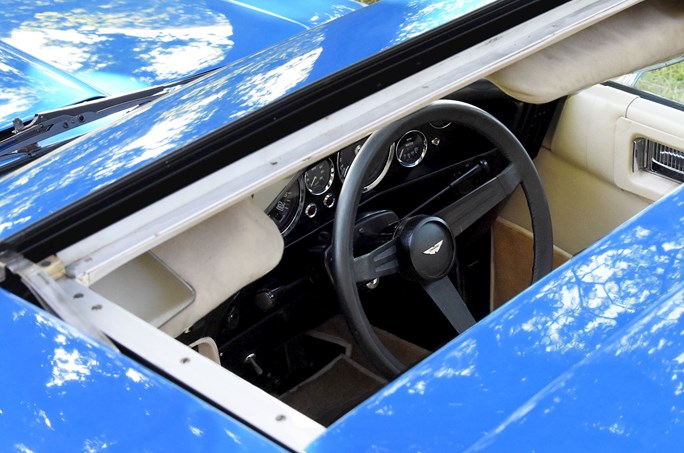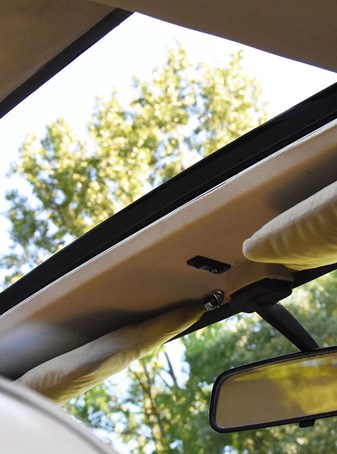 Interior | Sunroof
Leaving the factory with a handful of upgrades, the Aston Martin is presented with a fully functional electric sunroof which retracts the roof panel back into the headlining without disrupting the overall sporty look of the V8.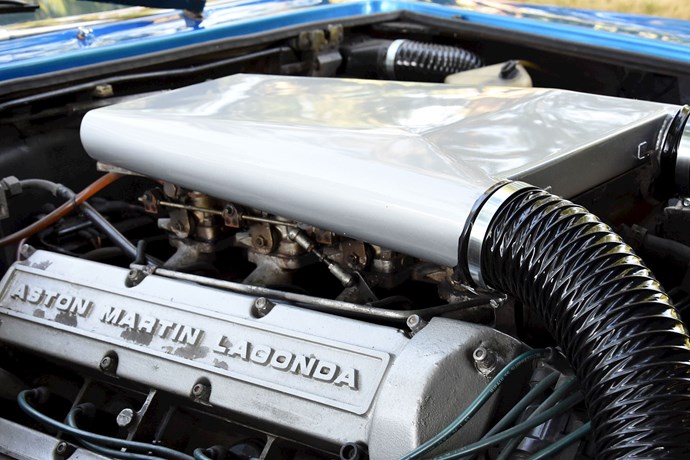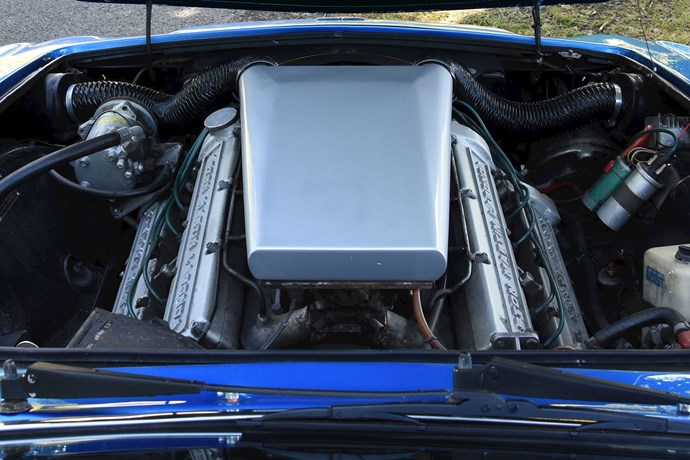 MECHANICAL
Pop the bonnet of the Aston Martin to reveal its sound running 5340cc V8 with Quad Twin Choke 42mm Webbers producing 310 horsepower reaching 60 mph in around 5.7 seconds with its 5-speed manual transmission. The V8 slides between gears smoothly offering a highly responsive and solid drive on both country lanes and motorways.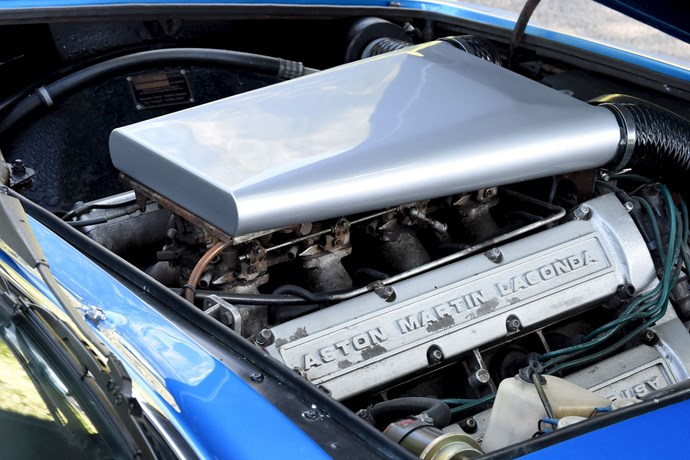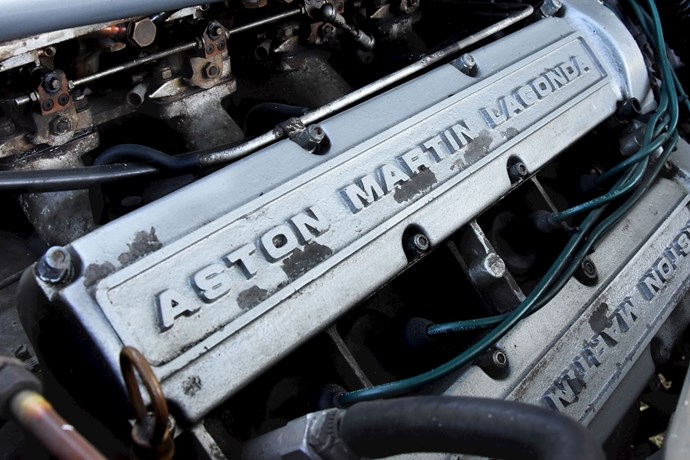 INTERESTED?
Interested in owning this 1974 Aston Martin sports car, please inquire by phone or email. We are more than happy to welcome any serious buyers to our premises to view the car in its current state and to view our professional in-house facilities.